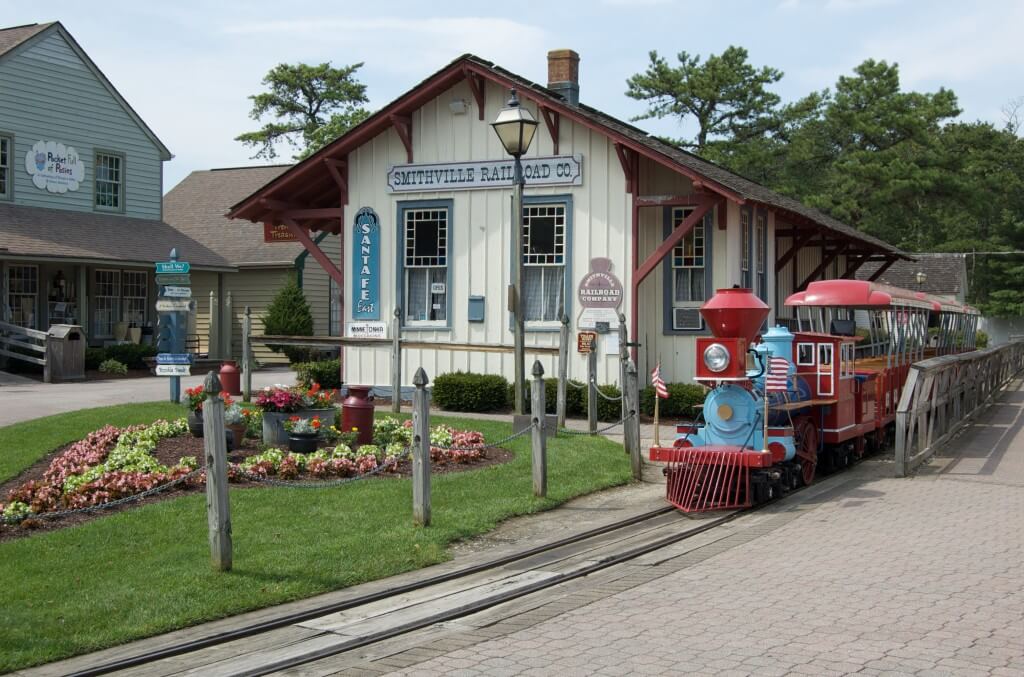 Image Source
Looking for some R&R
and
inspiration for your next home improvement project? These 12 captivating NJ shore towns – with their architectural charm and opportunities for quiet relaxation – are sure to please.
New Jersey is known worldwide for its beach towns, almost all of which boast traditional boardwalks, delicious seafood restaurants, serene beaches, amusement rides and treat stands, and a Victorian flare unlike anything else in the United States. Thousands of people flock each year to the Jersey Shore, many of which head to the casinos in Atlantic City or one of the many bigger, more commercial resort towns.
The charming NJ beach towns on this list are great alternatives to such places. Though this list is certainly not exhaustive, the 12 great beach towns on this list were chosen because they offer everything associated with the classic beach town — historic architecture, family friendly outdoor activities, and of course, the beach — packed into a smaller, more quaint package that is sure to have something for everyone.
1. Ocean Grove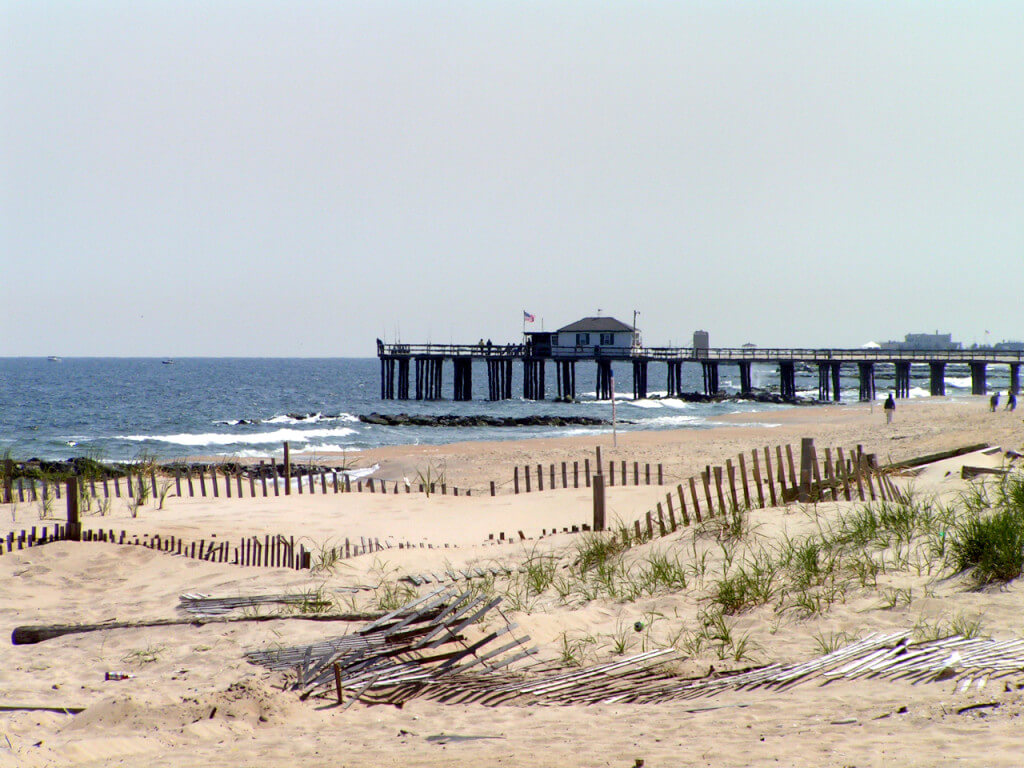 Ocean Grove has been called "a little piece of Hometown Heaven at the Jersey Shore," and a little piece of heaven it is. Founded in 1869 by a group of spiritual lay leaders, Ocean Grove is a mere one square mile of natural beauty, serene beaches, and historical architecture for visitors to enjoy. Tree-lined streets are home to the largest collection of authentic Victorian architecture in the entire nation — a feat that was rewarded in 1976 when the town was entered into the National Register of Historic Places. Whether or not one is religiously inclined, The Great Auditorium combines both impressive architecture and the fascinating history of the town's founding into one highly-rated attraction for tourists.
2. Somers Point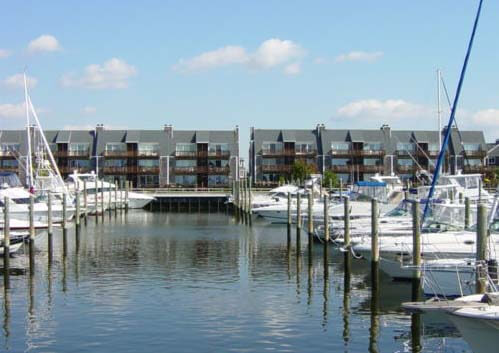 Tiny Somers Point is a unique destination because, unlike any other NJ beach town on this list, it is built entirely on the bay, as opposed to beside it. Visitors are sure to enjoy Somer Point's waterfront, where top-notch restaurants, outdoor music venues, and dance halls keep the party in Somer Point going all night long. During the day, visitors can enjoy the public boat ramps, a fishing pier, and a sandy beach that is free of waves. Hotel connoisseurs will enjoy the Pier 4 Hotel, which boasts fantastic views, a coffee that has become a local favorite, and private balconies overlooking the harbor.
3. Barnegat Light
Perched on the northernmost tip of Long Beach Island, Barnegat Light is a serene and charming NJ beach town known for its family friendliness, casual atmosphere, beautiful beaches, and top-notch fishing. The crown jewel of Barnegat Light is the town's lighthouse. Built in 1859 and affectionately nicknamed "Old Barney," the lighthouse sits on a jut of land in close proximity to where more than 200 ships sank to the bottom of the sea. Visitors can climb to the top of Old Barney and enjoy the amazing views that can only be offered by the second tallest lighthouse in the United States.
4. Beach Haven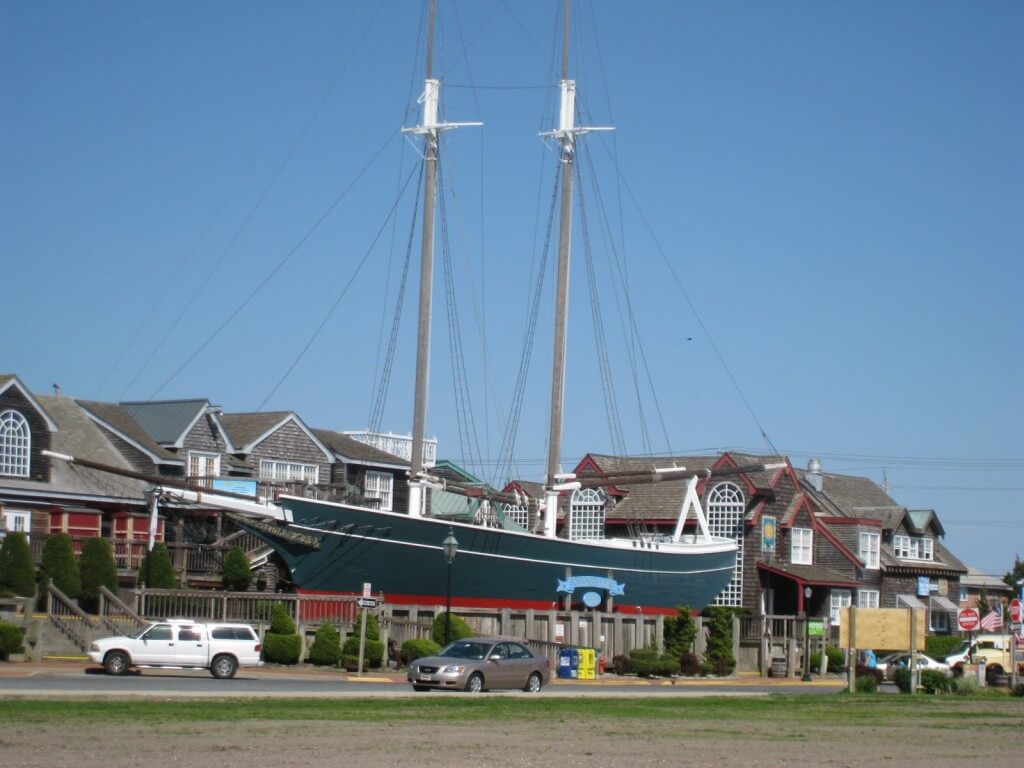 Known as the "Queen City," charming Beach Haven consists of a six-mile stretch of beach, sea, and a quaint historic promenade. Families flock to Beach Haven for its wide variety of kid-friendly activities, including miniature golf and an arcade. A day at the beach can be spent playing in the surf, reading under a beach umbrella, or even parasailing up to spectacular 500-foot high views of the island. For those who prefer to stay a little more grounded, history and architecture lovers are sure to enjoy the Long Beach Island Museum, or one of the popular guided walking tours to visit Beach Haven's series of historic Victorian homes.
5. Brigantine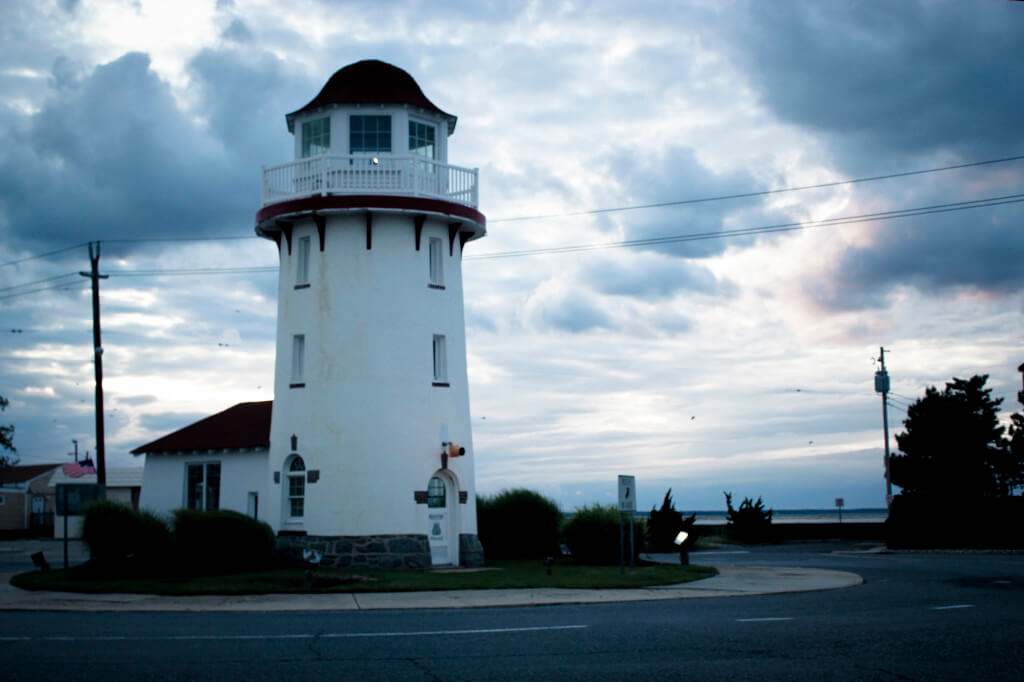 Located just five miles from Atlantic City, Brigantine is a charming New Jersey beach town resplendent with natural beauty. Besides the beaches, ocean views, and myriad family activities, many visitors enjoy Brigantine for its historical features, some of which date back to the town's founding in the 1500s. Former plantation houses, a fascinating educational center, various museums, and the Brigantine lighthouse are all must-sees for any visitor to charming Brigantine. As an added bonus, keep your eyes peeled while on the water (or from the beach at low tide) and see if you can spot one of the 300 ship wrecks that occurred just off the coast over a 200-year time period.
6. Cape May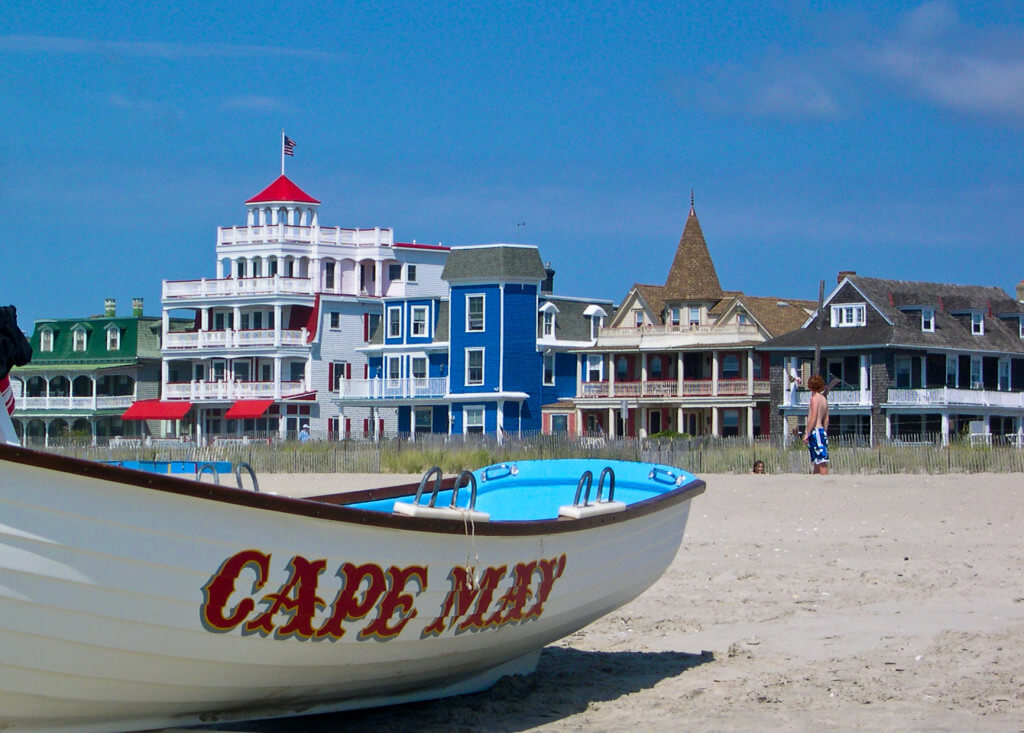 Cape May might just be the epitome of quaint New Jersey shore towns. As the oldest seashore resort town in America, Cape May has a fascinating history that offers visitors a unique experience. While Cape May has the beautiful beaches and mouth-watering restaurants typical of the New Jersey beach town, it is also home to hundreds of charming homes and Victorian-era B&Bs and stores. In fact, in 1976 Cape May was given the prestigious honor of becoming one of only five cities to be named an official National Historic Landmark City. Must-sees for visitors include the Southern Mansion, the Cape May Lighthouse, and the World War I concrete ship at Sunset Beach.
7. Smithville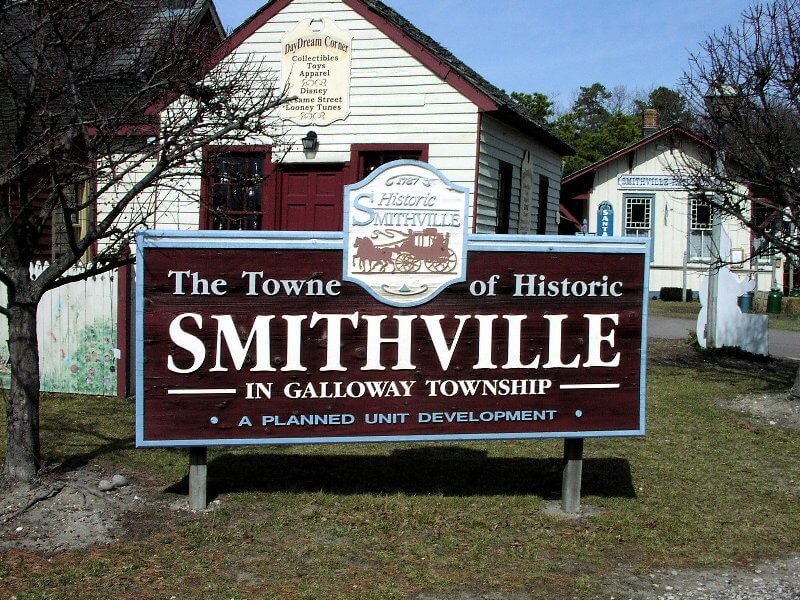 While making your way along New Jersey's Route 9, make a stop in the historic town of Smithville. Founded in the 1700s, Smithville is a quaint and charming town featuring nearby beaches, fun family activities such as miniature golf, paddle boats, a carousel, and an old-fashioned steam train, and a promenade lined with more than 60 locally owned boutiques. Visitors to Smithville shouldn't leave without stopping into the Smithville Inn. Built just two years before George Washington became President, Smithville Inn offers a restaurant with a charming and intimate dining atmosphere.
8. Sea Isle City

Sea Isle City is known for its myriad beds of brightly colored flowers, American flags waving intermittently over the length of Landis Avenue, the town's "main street," and the beachfront promenade that serves as a major draw for locals, newlyweds, families, and those looking for a break from the city. The promenade is an authentic throwback to classic "Jersey Shore." Old-fashioned arcades, cafes and restaurants, and various shops line the mile-and-a-half walkway. A gem of Sea Isle City is  The Colonnade Inn, a charming Victorian-style hotel with an authentic feel, upscale amenities, and the ever-important ocean views.
9. Point Pleasant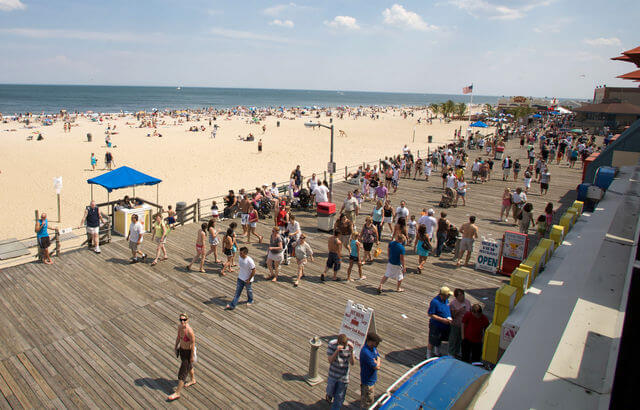 Point Pleasant, New Jersey has been charming visitors and locals alike since the 1600s, when the Lenape Indians called the area home. Today, people flock to Point Pleasant for the beautiful public beaches, many private beaches (with protected bathing areas), charming seaside architecture, and of course, the seafood. Fishermen have been living in Point Pleasant for centuries, a heritage the town celebrates each September by holding the annual Seafood Festival. Luckily, the festival isn't the only time delicious bisques, crab cakes, and fish dishes are available. Stop in at one of the many saltwater-weathered seaside restaurants at any time of the year and you're bound to enjoy a delicious Point Pleasant meal.
10. North Wildwood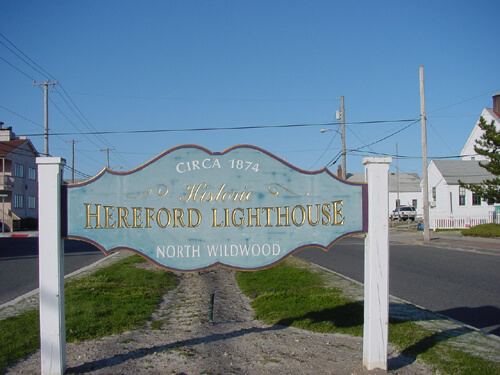 A trip to North Wildwood  is like taking a trip back in time to the Victoria era. A popular destination for the Washington, D.C. crowd (the capital is only 125 miles away), North Wildwood is liveliest during warmer months, when the town hosts events such as the Annual Nationals Car Show, Hereford Inlet Lighthouse Craft/Herb Show, Pro Wrestling on the Beach, and the Anglesea Blues Festival. A trip to North Wildwood isn't complete without a visit to the charming Candlelight Inn Bed & Breakfast. Built in 1909, Candlelight has been completely renovated to its authentic Victoria style, complete with wraparound veranda and  Victorian antiques.
11. Ship Bottom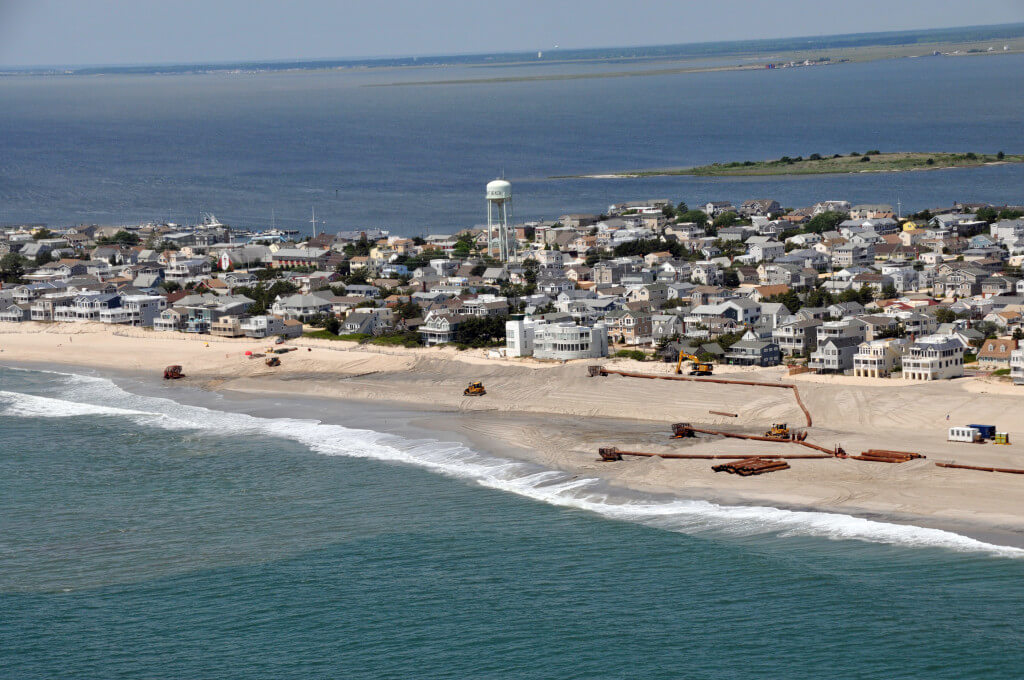 Stop short on your trek to Long Beach Island and spend some time in quaint Ship Bottom, which got its name from a tragic 19th century ship wreck just off the coast. Bustling with activity during the warmer months, Ship Bottom is a popular destination because of its beautiful beaches. But if you tire of the calming surf or soft sand, head over to nearby Long Beach Boulevard, or better yet, take a stroll down one of the beachfront streets in Ship Bottom, where traditional shore-side architecture houses everything from chic boutiques to restaurants known for their hearty seafood dinners.
12. Seaside Heights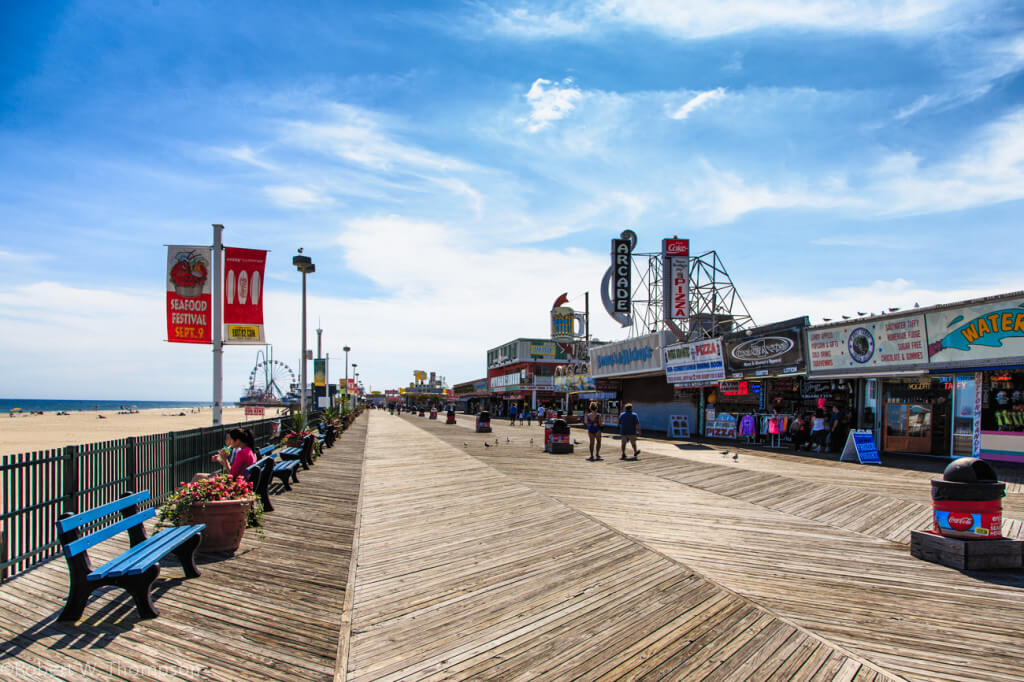 You may recognize the name Seaside Heights from the hit MTV show "Jersey Shore," but this charming NJ beach town is known for much more than alarming spray tans and wildly partying teenage crowds. Calling itself "Your Home for Family Fun Since 1913!", Seaside Heights boasts beautiful beaches and a number of restaurants, clubs, and bars that are sure to satisfy anyone's tastes. The crown jewel of Seaside Heights is the boardwalk. After a morning at the beach, grab your bicycle, scooter, or walking shoes and stroll down the boardwalk to  enjoy the many arcades, amusement rides, treat stands, and pubs that add up to make it one of the most famous places on the New Jersey coast.