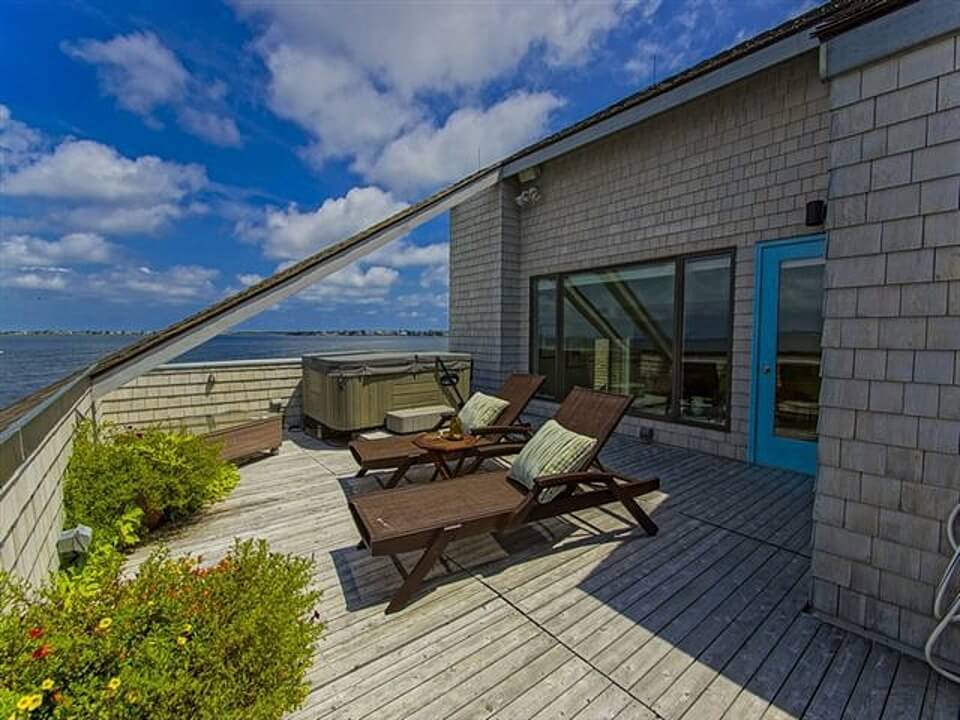 Spectacular ocean views that will simply take your breath away, combined with the excitement of the Jersey shore, are featured in these twenty fabulous beach homes. There's something for everyone in these featured palaces — there's a modern, glass palace, a Mediterranean style getaway and even one home modeled to look like a capsized ship. Homey, modern, classic and just plain whimsical, these homes are unsurpassed in quality and style.
1. The Terrace in Sea Girt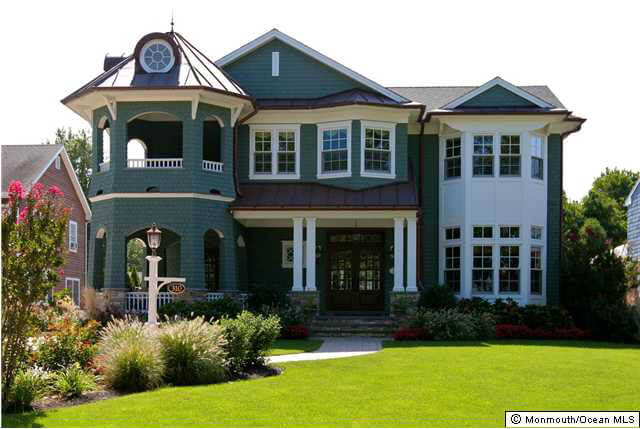 The Terrace represents luxury living at its best, with spectacular seashore views in a prestigious neighborhood. This Colonial-style 4,500 square foot property has an over-sized lot. There's plenty of room for guests with 4 large bedrooms and 5.5 bathrooms and a luxury steam shower. The house is equipped with many resort-style extras including:
a gourmet kitchen with a mahogany-topped island
a state-of-the art movie theater
gym
billiard table
bar area
backyard oasis
spacious pool
spa
an unbelievable waterfall
an outdoor shower
and a cabana.
When this home was up for sale in 2012, the owners were asking $3.975 million, but the current price is $3.85 million.
2. East Beacon Lane in Pt. Pleasant Beach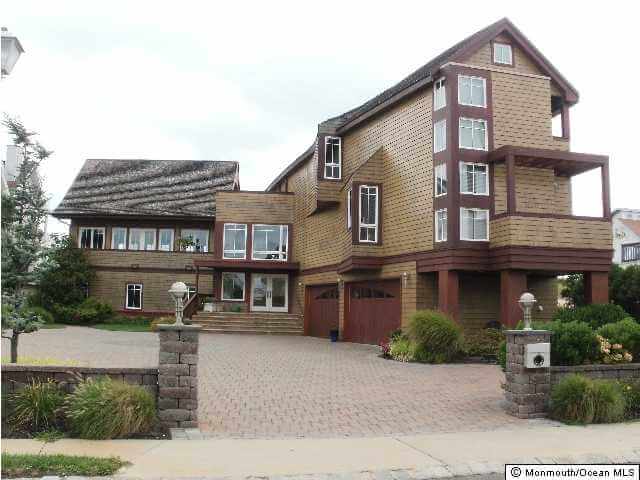 This 11,000 square foot, four-story house was inspired by a nautical theme, resembling a capsized ancient ship docked at port. Built in 2002, the inside is both modern and has an ancient, whimsical feel. Luxury is at an unsurpassed level with 8 bedrooms, 8.5 baths, heated floors and 110 feet of glass walkways. With 200 feet of views of the Atlantic ocean, you get a breathtaking ocean view from almost every room in the house. Built on two lots, the property features a four-car garage, 4,000 square foot IPE main deck and a dune deck. Distressed materials are combined with a modern, bold appearance. While originally listed at $5.499 million, the price was recently adjusted to $4.999 million for a quick sale.
3. Wesley Avenue in Ocean City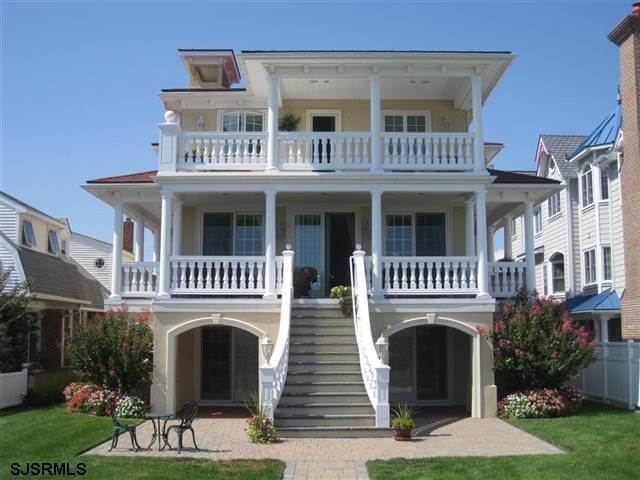 This custom, 4,800 square foot three-story home combines the fast-paced, exciting style of Ocean City with the Mediterranean luxury of a beach house. Use either the elevator or the winding staircase to escape to your own private, nirvana with six bedrooms each hosting their own private bathroom. Downstairs, there are two extra bathrooms, tray ceilings, custom molding and hardwood floors throughout. The Rutt custom kitchen is a chef's dream with a Wolf range, double oven, wine refrigerator and two dishwashers. The outdoors is a breathtaking as the indoors, with pristine landscaping leading to the boardwalk of the Gold Coast section of Ocean City. While the original asking price was $5.9 million, this showplace has recently been slashed to $4.995 million.
4. Bay Road in Ocean City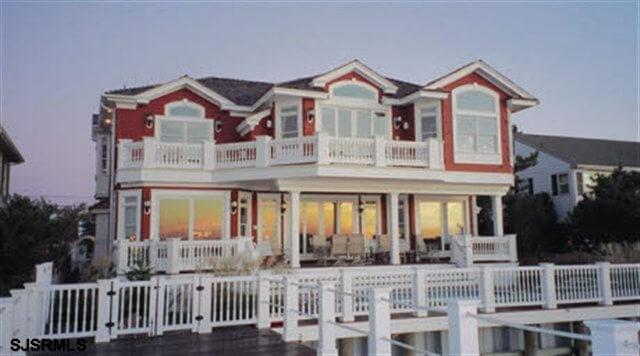 This landmark 4,400 square foot house in Ocean City is built in a handcrafted, Nantucket style. The home has ample room for visitors with 5 bedrooms, 6.5 baths and two laundry rooms. Amenities include a gourmet kitchen with large center island, a large study and a luxurious wine room. Tray ceilings with indirect lighting and dark ash wood flooring show that attention to detail was not spared. The spiral staircase leads to a master suite, featuring a walk-in closet, opulent master bath and master deck with spectacular ocean view. As if these features were not enough, the home boasts an in-ground pool, boat slip with a hydraulic lift with a floating dock and even a cabana room. This luxury living can be yours for $3.995 million.
5. S. 20th Street in Brigantine, NJ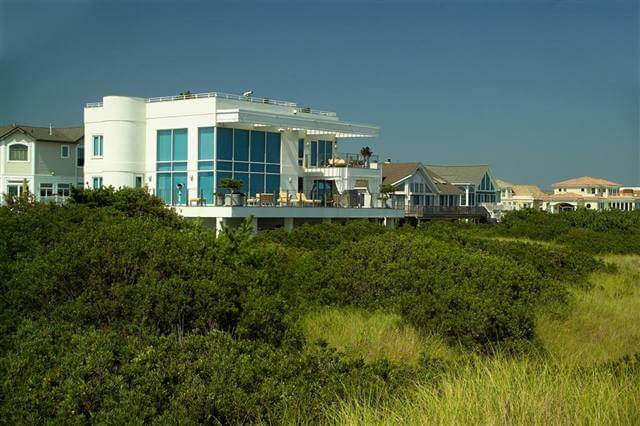 Modern comfort and luxury with relaxed oceanfront views from almost every room, this 5,000 square feet home boasts floor to ceiling glass. The home's five bedrooms and seven baths will accommodate anyone's relatives. Features include stone tile, hardwood floors, marble counter tops and specialty lighting throughout. With modern decor to match its architectural style, you will feel you have arrived. Enjoy the luxury inside or simply relax on one of the outdoor decks or rooftop patio. Valued at $2.21 million, this home is currently off the market due to hurricane Sandy damage.
6. Ocean Avenue in Belmar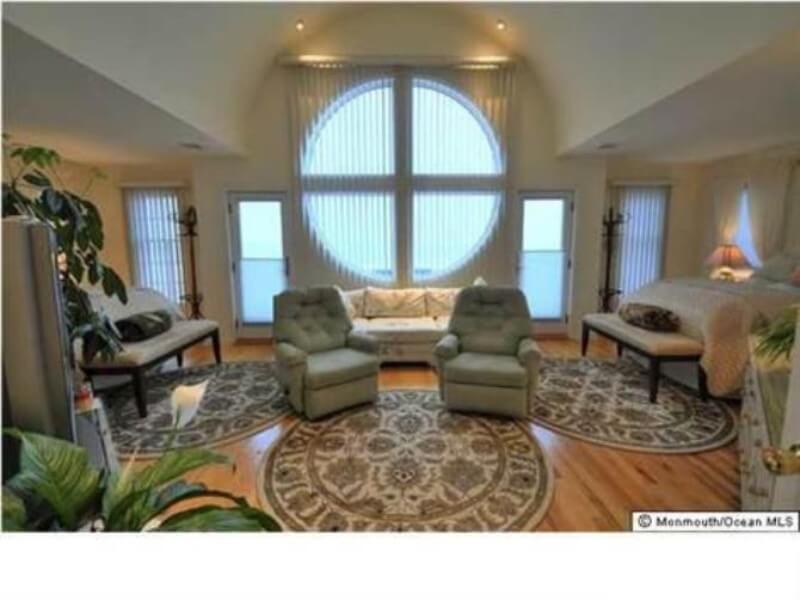 This ocean avenue reverse-built home, built in 1995, boasts 3,500 square feet of luxury with six bedrooms and 3 bathrooms and a large, port window. Light and airy, the home has honey hardwood throughout and light kitchen cabinets to add to the airy, cheery look. Relax inside or outside on your spacious, ocean view deck. Located at the north end of Belmar, this home can be yours for $1.999 million or you can rent it for 5,000 per week in the winter and $7,000 per week in the summer. The owners report the home was undamaged by hurricane Sandy.
7. 5th Avenue in Bradley Beach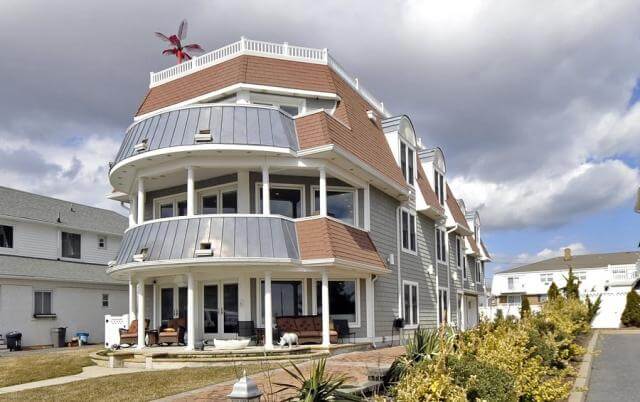 The first thing you notice when you pull up to this spacious, 5770 square foot dream house is two large panoramic windows giving you an unsurpassed view of the ocean. Located on a quiet street in prestigious Bradley beach, the home has a huge 7,741 square foot lot. Built in 2007, its decor gives a clean, modern appearance throughout. The owners relax on two decks and a rooftop terrace and are the envy of their neighbors. This beautiful home sold for $1.66 million in 2012.
8. Columbia Avenue in Cape May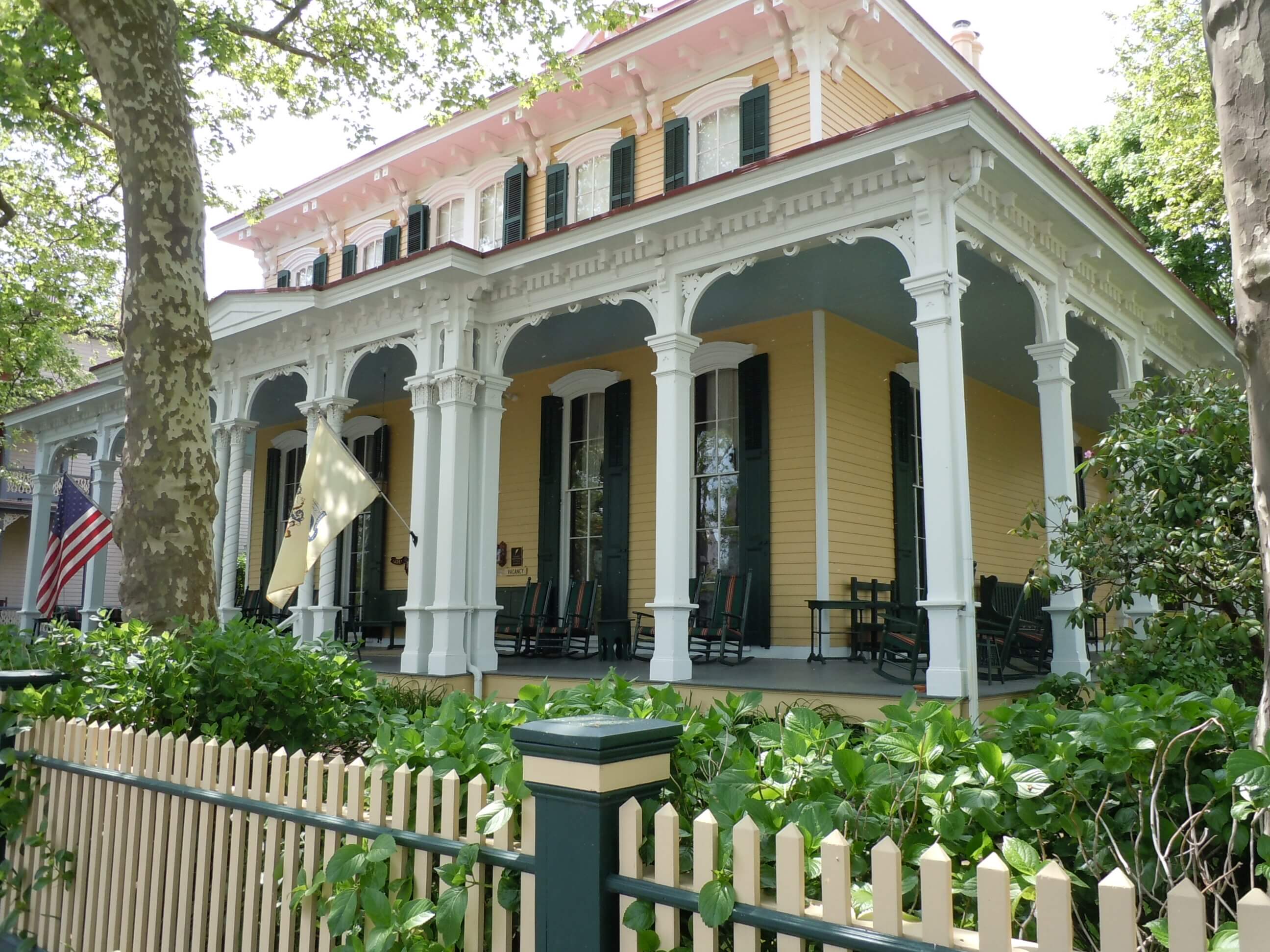 Take a step back in time to the Victorian era with this breathtaking 13 bed, 14 bath Bed & Breakfast Inn, known as the Mainstay. This historic inn was built in 1872, combining craftsmanship typical of the period with modern amenities. The home has six guest rooms in the main building, high ceilings, natural woodwork and period-era antiques throughout. Enter the cottage via a beautifully landscaped brick –lined pathway featuring a magnificent Victorian fountain. The cottage has an addition six guestrooms and a one bedroom caretaker-style apartment with a gas fireplace, full kitchen, dining area and central air. There are two wraparound decks with outdoor ceiling fans. The purchase price is currently $2.995 million.
9. Bay Road in Ocean City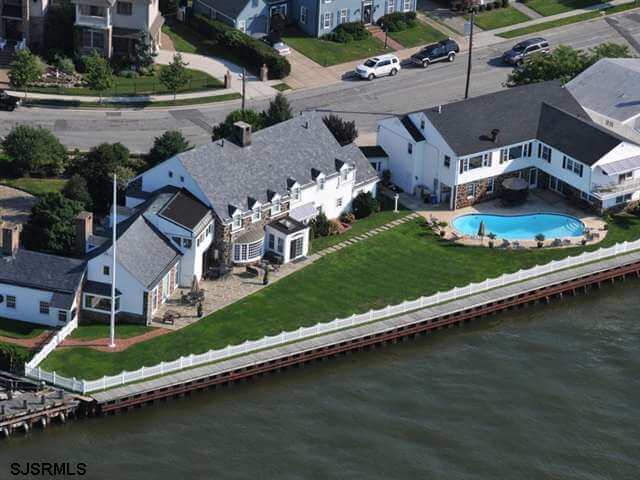 This stately manner was built in 1940 and boasts 7500 square feet with over 200 feet of ocean frontage. Known for its quality craftsmanship, elegant finishes make this space memorable throughout. Features include an entrance hall with a grand staircase, oak and teak flooring, main living area fireplace, an 18 foot ceiling, formal dining room, chef's dream kitchen with custom cabinets, granite counter tops and a rear hall with a staircase. Take the elevator to a breathtaking upper floor overlook balcony and marvel at the unique circular driveway entrance and breathtaking landscaping. This home is valued at $4.61 million but is currently not for sale.
10. Sand Castle near Atlantic City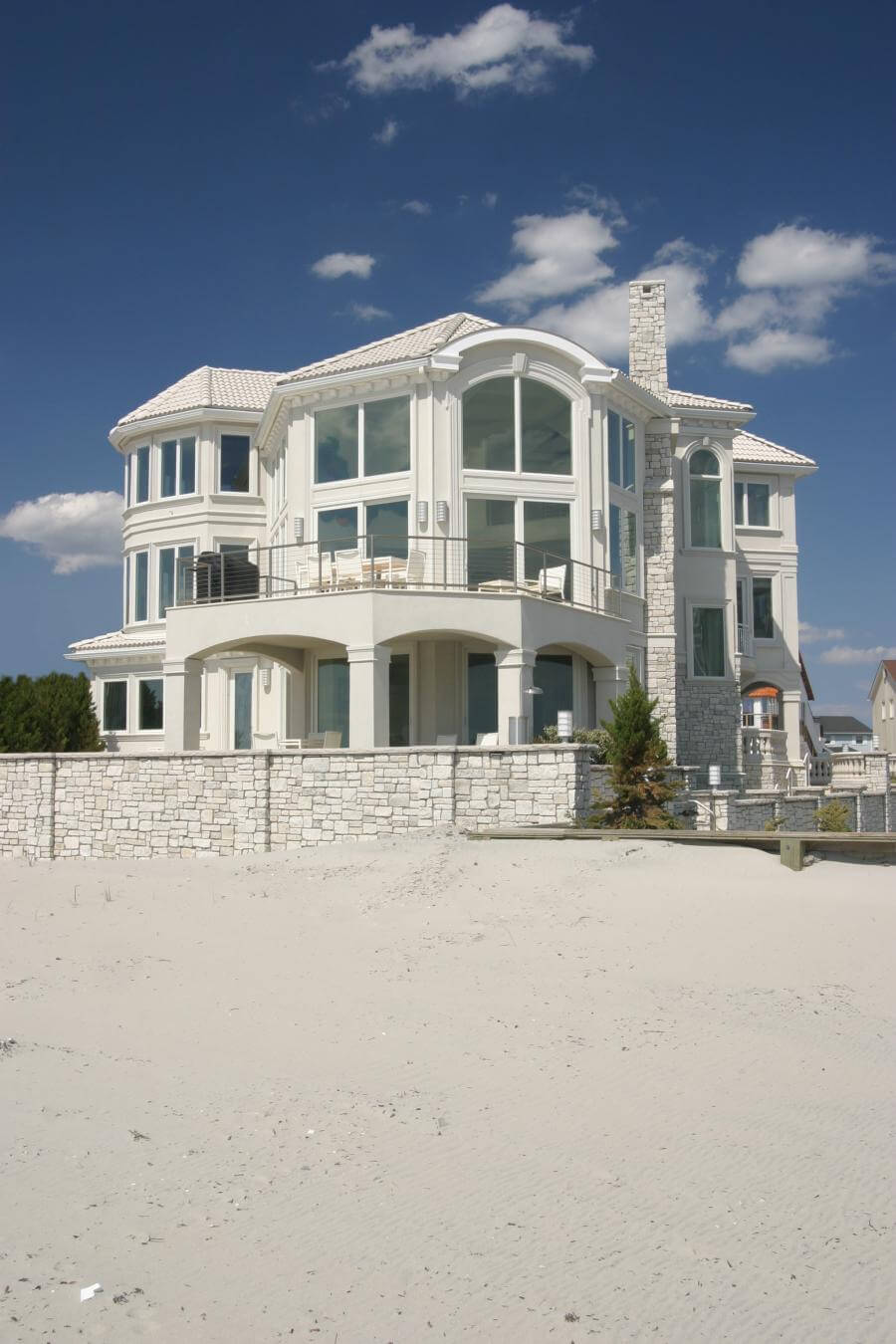 You'll think you are in a magnificent sand castle when you visit this immaculate, modern paradise located on the sand castle beach in Brigantine. This Mediterranean inspired home features wrap around decks, granite counter tops, marble flooring, a sub-zero refrigerator, a Viking stove and Pella doors and windows for the ultimate in energy efficiency. This home will not be missed by passersby with its dramatic curves and unmistakable craftsmanship. The price is available upon request.
11. Ocean Front in Bay Head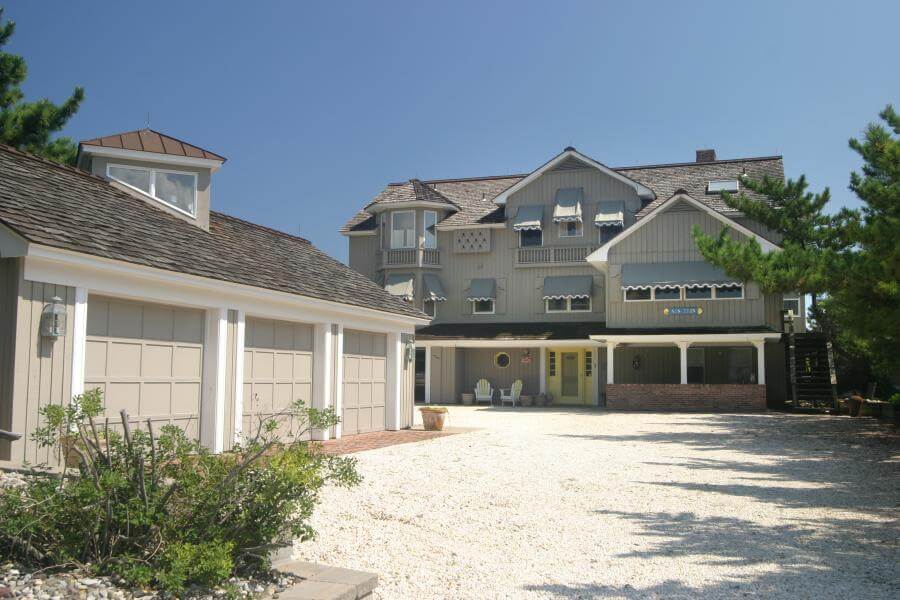 If you are searching for a private, yet luxurious getaway, look no farther. This private home boasts spectacular ocean views from the main living area to enhance your living experience. Features include a first floor sauna, brick laid throughout first floor, light oak flooring on other floors, unique chair moldings and cypress paneling. All the bedrooms are sequestered away on the third level and have private bathrooms. The asking price is $4.9 million.
12. Ocean Front in Mantoloking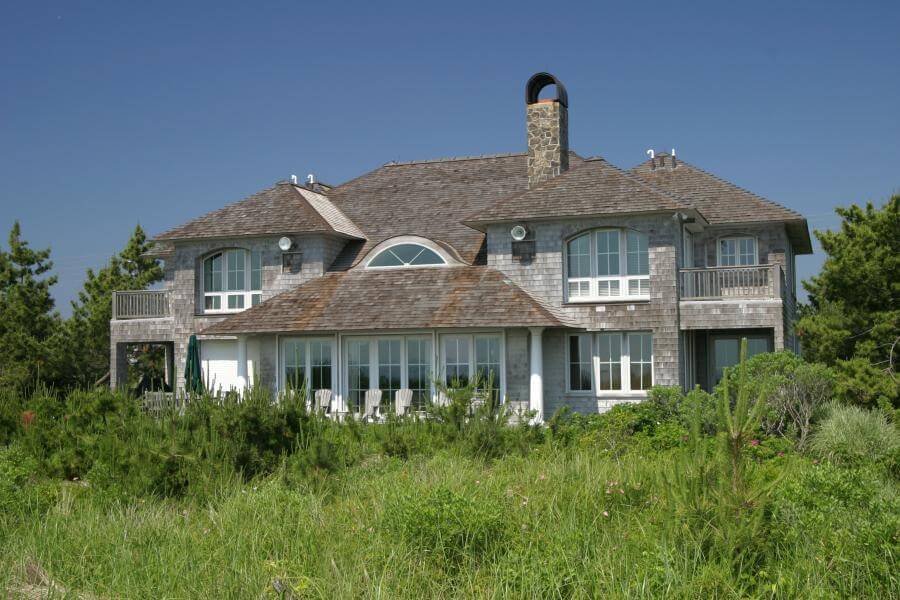 This pristine white house makes a striking beach presence. At $3.9 million you get a lot for your money. This six bedroom, five bathroom home is a simply breathtaking oceanfront property with memorable ocean views. Joyful surprises include an ocean side spa pool, private master suite with ocean views, gas fireplace, wet bar, spa master bath, private office, cook's room and an over-sized great room.
13. Pelican Point in Avalon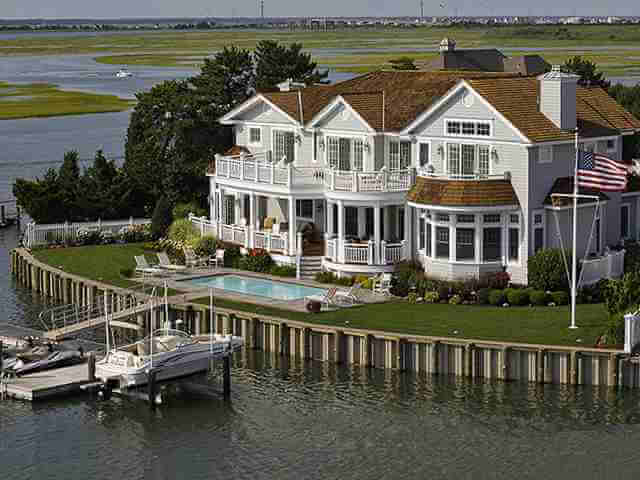 This beautiful single-family home was built in 2001 and distinguishes itself from the others by combining elegance with practicality. This two story bay front treasure comes fully furnished by expert interior decorators and features five bedrooms, four full baths and two powder rooms. Over 4,600 square feet with 177 feet of waterfront property ensure that you won't ever feel crowded. Enjoy beautiful ocean views from the grand deck or poolside in your 12 by 20 foot swimming pool, overlooking the inlet. Pricing is available upon request.
14. 17th Street in Avalon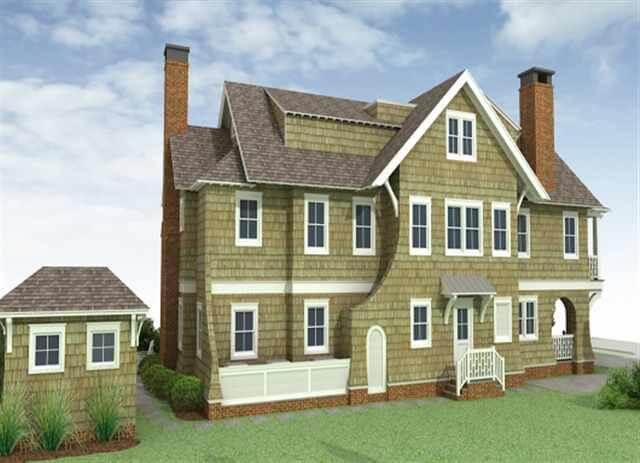 If you have $6.995 million and want a brand new, five bedroom, four bathroom luxury home you'll want to be first in line to view this pelican point mansion. This home will boast a spectacular ocean view with 110 feet of beach frontage. This home will feature Nantucket architecture with upgraded amenities including:
two powder rooms
first floor family room with fireplace
wet bar
porch
state-of the-art kitchen with center island,pantry and top-line appliances
oceanfront dining area
and a summer kitchen.
15. 65th Street in Avalon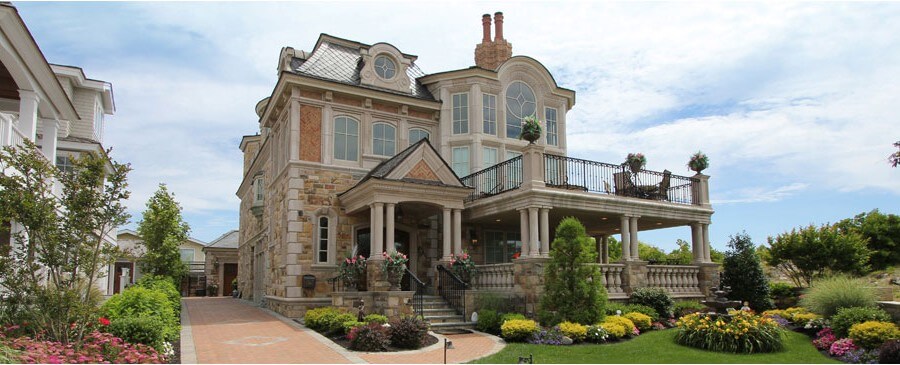 If you are looking for both luxury and seclusion, take some time to tour this private oasis in the middle of picturesque Avalon. The home's exterior showcases natural stone, brick and slate to create a unique landmark, nestled amongst the dunes. At 4,500 plus square feet and three stories, you'll enjoy this spacious six bedrooms with four private baths, one hall bath and two powder rooms. The huge family room showcases a pool table, fireplace, wet bar and first floor laundry. The granite-topped kitchen has an over sized center island and an expansive oceanfront dining area, vaulted great room, masonry fireplace and quarter-sewn oak floors. A three story elliptical staircase leads to an unbelievable master bedroom with a private balcony, an oceanfront sitting room and a huge fireplace with a beverage center. The asking price for this one-of-a-kind luxury home is $7.9 million.
16. Ocean Avenue in Mantoloking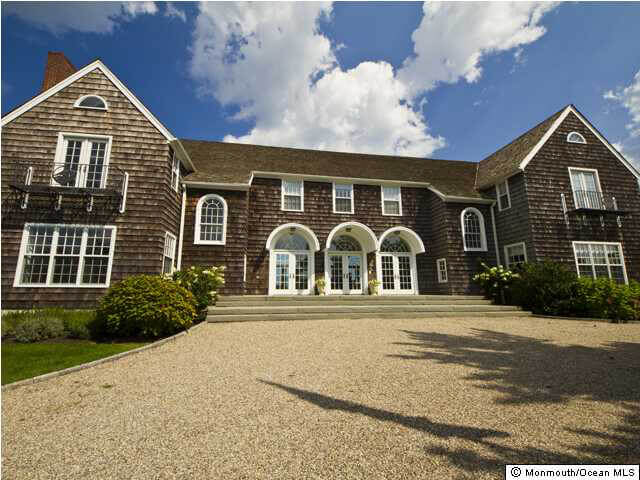 Valued at $11.174 million, this exquisite property is currently not for sale. It's uncertain if it was removed from the market due to hurricane Sandy damage. If it comes back on the market, home buyers will be envious of its timeless appeal and modern amenities. This home is an icon, whose architectural style is best described as gracious. Completely restored, this 1929 home showcases beautiful hardwood floors throughout and magnificent, panoramic ocean views from every level. Features include nine bedrooms, nine full baths, two half baths and three fireplaces.
17. Tidal Drive in Long Beach Island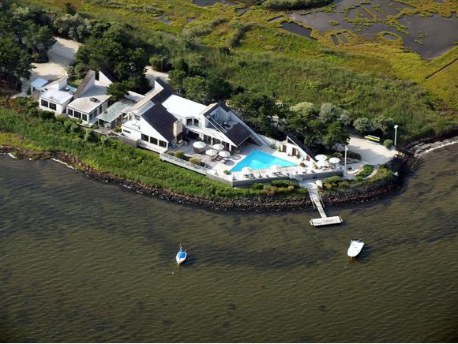 For $12.78 million, you can own this 5,852 square foot home with three bedrooms and six bathrooms with a magnificent, private view. The house features a sunken living room, wood burning fireplace with a driftwood mantle, 12 to 14 person dining room and state-of-the art kitchen. The master suite has a sumptuous bath with a heated marble floor and a jet soaking tub. As if the main home wasn't spectacular enough, the owners will enjoy a two to three bedroom, two bathroom private guest house.
18. Brighton Avenue in Spring Lake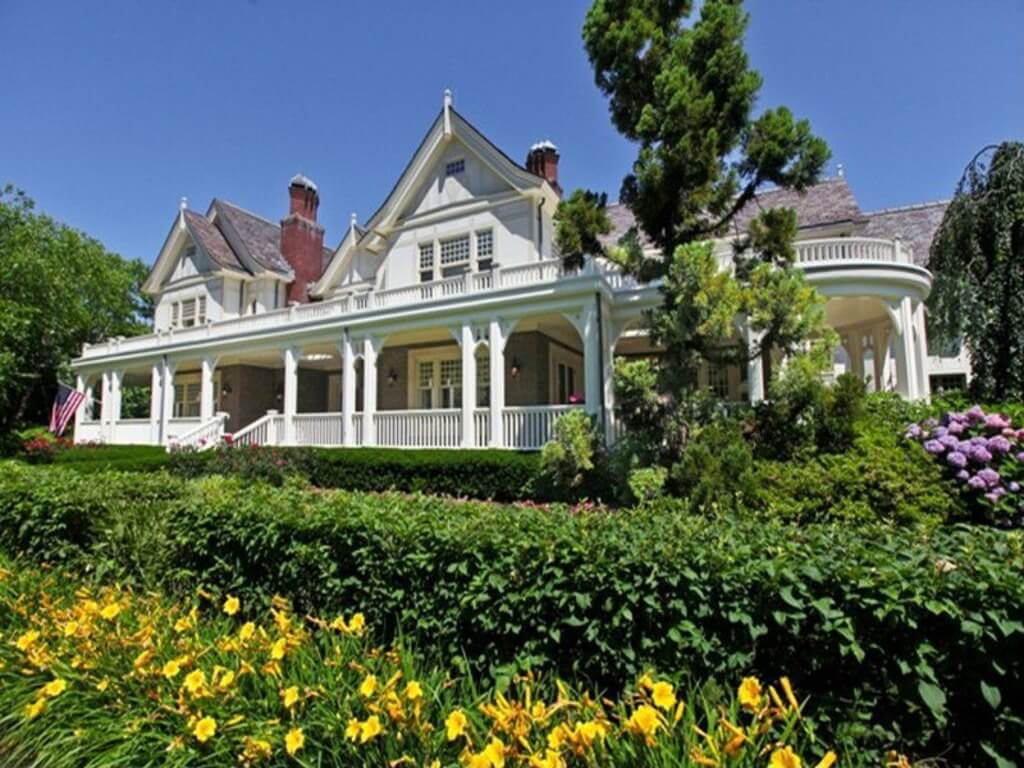 This one-of-a-kind English-shore treasure won't be on the market long, even at an asking price of $12.9 million. Built in 2001, this home has five bedrooms, five bedrooms and 12,344 total square footage on a huge 31,049 square foot lot. Just two blocks from the beach and shopping, you'll feel like you are on vacation in your own home. The home was built by a master custom builder who infused quality into every beam and timber. You have to see it to believe it.
19. Long beach Boulevard in Long beach Township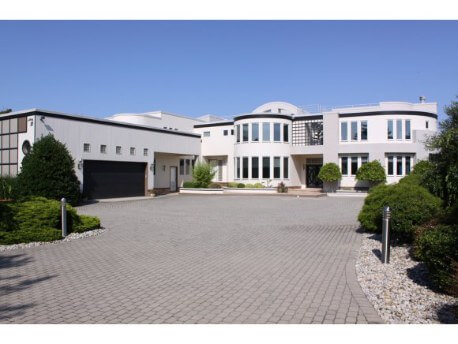 Valued at $5.822 million, this home has been temporarily taken off the market due to Hurricane Sandy damage. Built in 1971, it's a classic, showcasing master craftsmanship. At 4,888 square feet, its spacious four bedrooms, five bathroom living space offers plenty of room for guests. The lot is generous at 39,373 square feet. Amenities include:
in-ground pool with spa
fully equipped cabana
putting green
over 225 feet of water frontage
sunset bar
executive office
state-of the-art game room
large family room
20. Strickland Street in Bay Head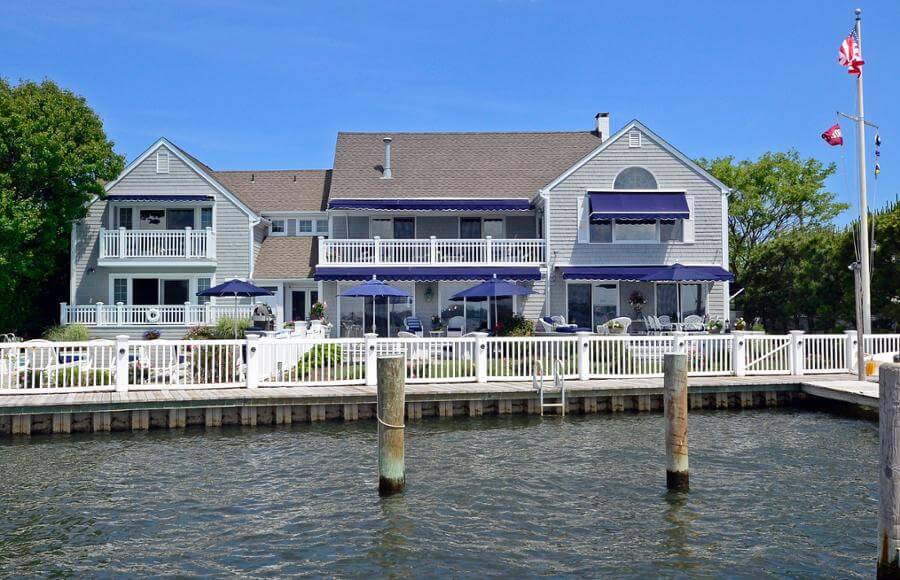 Last on the list but certainly not least is this stunning 6,670 square foot single-family property located on Strickland Street. The home is located right on the ocean with eight bedrooms, seven full bathrooms and one half bathrooms, wraparound decks and modern kitchen appliances. This home has a gorgeous garden with paved courtyard and a luxury pool that will make you think you are on a permanent vacation. The asking price is $5.3 million.