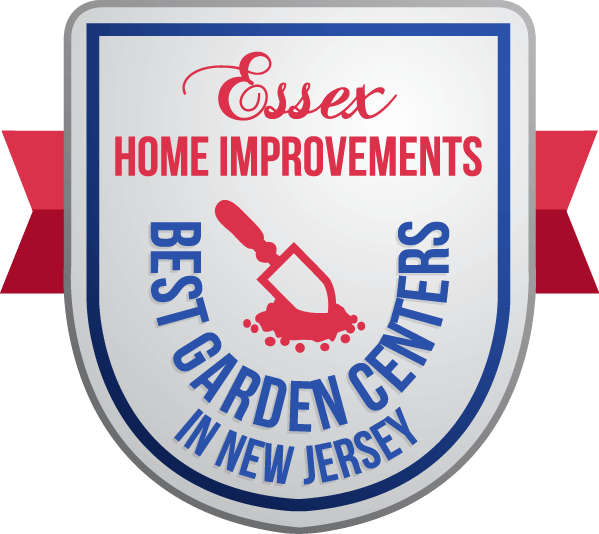 There are thousands of nurseries and gardening and landscaping supplies stores throughout the Garden State, and it can be confusing for homeowners to know which of these establishments has the best offerings. So we decided to do the legwork to track them down for you. While each has its unique offerings and appeal, these 30 exceptional garden and landscape centers have a number of things in common.
Selection: The best garden and landscaping centers provide an experience that you can't get elsewhere. If all you want to do is get in, grab a generic, no-name bag of mulch, and get out, then that is what is monolithic megastores are for.
Expertise: The best centers in New Jersey train their employees, so if you have a question, you will actually get an answer. Having the right information can be the difference between the success and failure of your home garden.
Service: The best garden and landscaping centers in New Jersey understand their customers, and they realize that to stay ahead in a competitive market they need to offer convenience and service that large chain stores simply cannot match. Examples would be the offering of home delivery, the availability of special ordering, or educational classes and workshops.
Here is a listing of those garden and landscaping centers and nurseries in New Jersey that offer the complete package – Selection, Expertise, and Service. These are the establishments that get it – they understand that home horticulture IS a culture, and they provide visitors with the utmost in shopping convenience.
For simplicity's sake, these listings are provided in alphabetical order by county, in the hopes of making it easier to actually find one of these centers in your area. Click a link below to go directly to a county and the detailed writeup on each of our selections.
Atlantic – Atlantic Nursery
Bergen – Denny Wiggers Landscaping and Garden Center, Galaxy Gardens, Willow Run Home and Garden Showplace
Burlington – Flagg's Garden Center
Camden – McNaughton's Gardens, Pope's Gardens
Cape May – Church's Garden Center and Farms, The Garden Greenhouse and Nursery
Essex – Fairfield Garden Center, Orange Gardens
Gloucester – Bloomers Home and Garden Center, Creamy Acres Farm, Triple Oaks Nursery and Herb Garden
Hunterdon – Rutgers Landscape and Nursery
Mercer – Kale's Nursery and Landscape Service, Stony Brook Gardens
Monmouth – Barlow's Flower Farm, Molzon Landscape Nursery
Morris – The Farm at Green Village, Rockaway Garden Center
Ocean – Reynolds Garden Center
Passaic – Glenwild Garden Center and Nursery
Somerset – Ambleside Gardens and Nursery, Bardy Farms
Sussex – Gardens of the World, Ideal Farm and Garden, Kuperus Farmside Gardens
Union – Hall's Garden Center and Florist, Parker Gardens
Atlantic County
Atlantic Nursery
3072 Cologne Avenue
Mays Landing, NJ 08330
609–965–2553
http://atlanticnurserynewjersey.com/index.html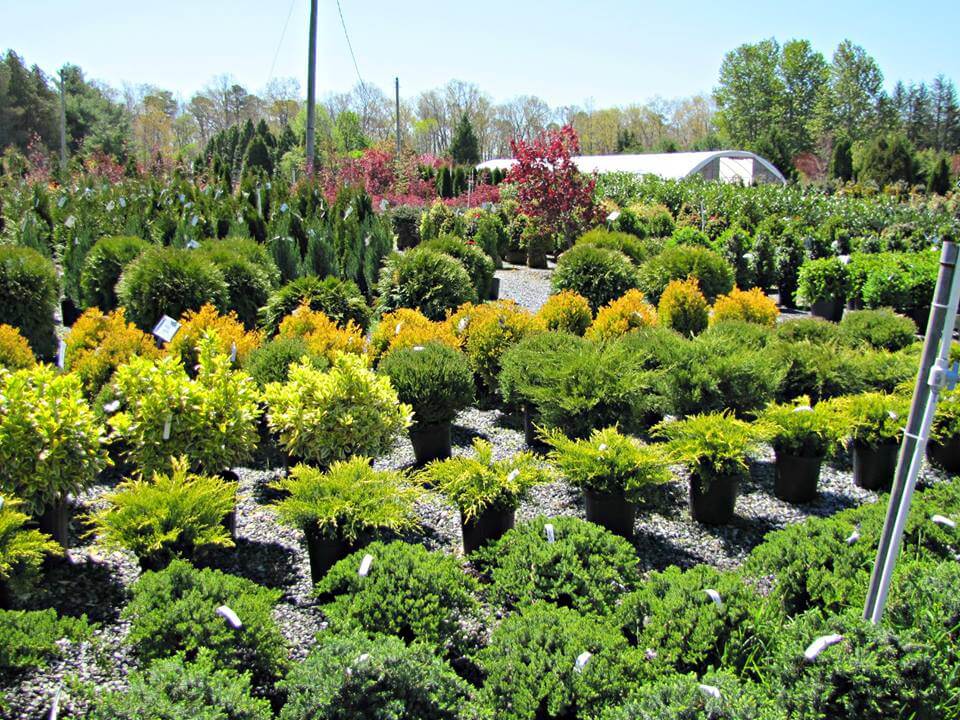 Since 1980, Atlantic Nursery has provided complete landscaping services, from inception to installation to maintenance. As a garden center, they have a retail area encompassing 10 acres, containing the largest selection of trees, shrubs, and perennials in the entire area.
Special Services: The same train professionals who grew your plants can be the ones who plant them and maintain them.
That Little Bit Extra: Atlantic nursery offers a unique "We Plan, You Plant" program, where a designer comes to your home, creates a plan meeting all of your goals, and then provides you with a written plan showing all plants and materials needed. The only thing you have to do is make the purchases and follow the suggestions.
Bergen County
Denny Wiggers Landscaping and Garden Center
387 Paramus Road
Paramus, NJ 07652
201–444–0155
http://www.dennywiggersgardenscapes.com/index.html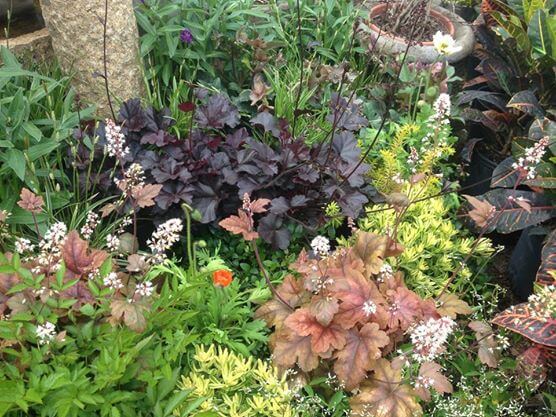 For 30 years, Denny Wiggers Landscaping and Garden Center has served northern New Jersey as a complete garden center and nursery. They specialize in the creation and delivery of standard and specialty mulch, topsoil, and gravels that are suitable for any project.
Special Services: The mulch offered here starts out as hardwood trees, specifically Hickory, Birch, Oaks, and Maples, which are ground-up and then organically dyed to provide customers with the utmost in ground covering.
That Little Bit Extra: Unlike most garden centers, Denny Wiggers offers seasoned firewood delivery in half-or full-cord quantities all year round to northern New Jersey and New York City.
Galaxy Gardens
223 Woodcliff Avenue
Woodcliff Lake, NJ 07677
201–573–1515
http://www.galaxygardens.com/index.html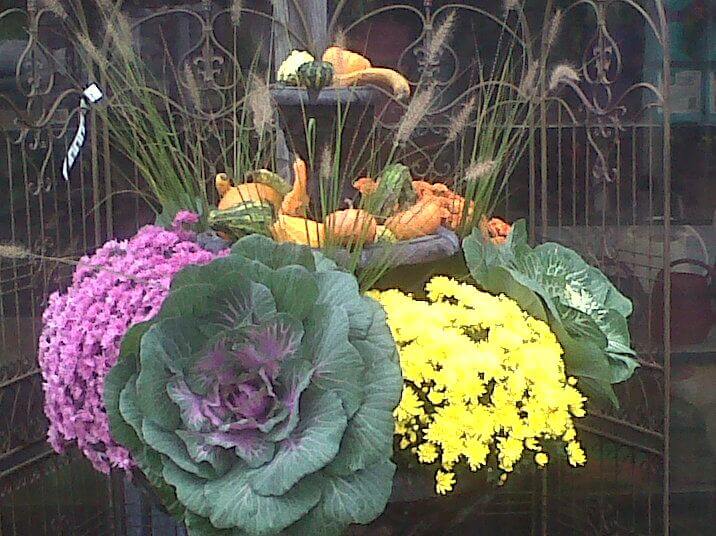 For over 26 years, Galaxy Gardens has served Woodcliff Lake and surrounding areas as a full-service landscaping design company and garden center. In the nursery, home horticulturalists will find a vast array of evergreens, trees, perennials, and annuals suitable for any home garden environment.
Special Services: Galaxy Gardens offer snow removal services for area businesses, including calcium chloride treatment, and sanding and salting service for parking lots.
That Little Bit Extra: On their website, Galaxy Gardens has posted a number of training videos instructing homeowners on some of the problematic aspects of home gardening and maintenance.
Willow Run Home and Garden Showplace
One County Road
Cresskill, NJ 07626
201–568–2400
http://willowrungardencenter.com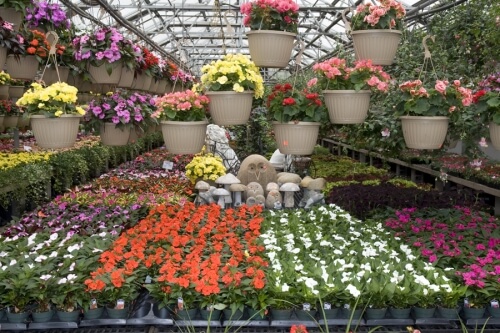 The Pendegrast family has been serving the landscaping and horticultural needs of the area since the mid-1920s, and currently they have over 10,000 square feet of greenhouse storage and retail space offering everything possible for home gardening, lawn care, and outdoor living.
Special Services: Willow Run publishes a regular blog with gardening advice for both novice and experienced home horticulturalists.
That Little Bit Extra: For generations, Willow Run has thrilled the public during the holiday season with a Christmas display that even includes live animals.
Burlington County
Flagg's Garden Center
4320 Bridgeboro Road
Moorestown, NJ 08057
856–461–0567
http://www.flaggsgardencenter.com/flaggs.htm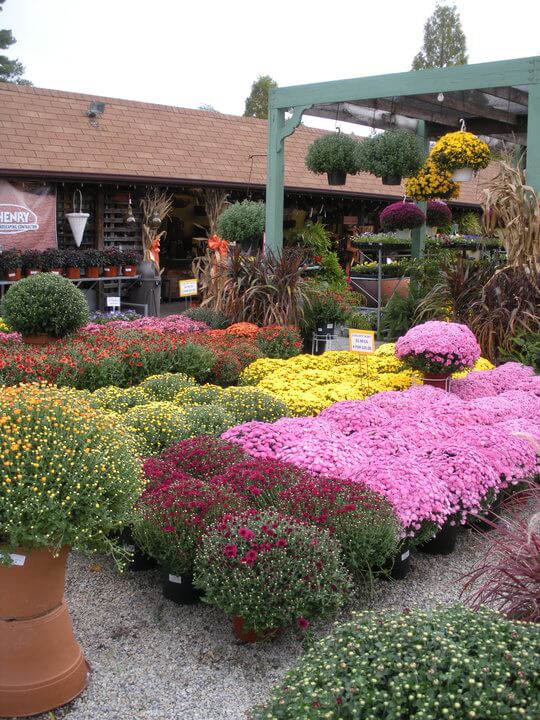 Flagg's started as a single flower cart in the 1950s, and now, three generations later, it will deliver over 10,000 trees and shrubs and over 40,000 perennials during the peak part of the year. They have one of the largest plant selections on the East Coast and specialize in locating those "hard-to-find" cultivars.
Special Services: Providing the utmost in convenience and service, Flagg's offers delivery seven days a week.
That Little Bit Extra: Because they know that home horticulturalists are always looking for beautiful and exotic plants, the company's website has a "Plant Collector" section where interested gardeners can learn about the year's newest offerings.
Camden County
McNaughton's Gardens
351 Kresson Road
Cherry Hill, NJ 08034
856–429–6745
http://mcnaughtonsgardens.com/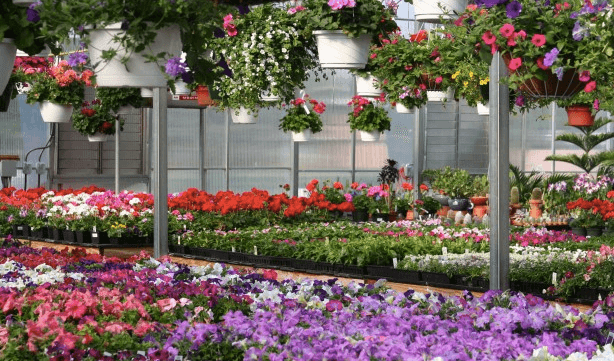 Opened in 1929, McNaughton's Gardens is one of the oldest and most prestigious garden centers in the state. They have a remarkable selection of "homegrown" plants, and own a 450-acre property to supply the plant needs of their customers.
Special Services: In addition to the standard landscaping projects, McNaughton's Gardens can help you design, create, and build an aquatic garden for your home-a self-contained pond complete with beautiful stone work.
That Little Bit Extra: The company is very involved in the New Jersey horticultural community – a McNaughton served as President of the New Jersey Association of Nurserymen, and since 1986, McNaughton has participated as a major exhibitor in the Philadelphia Flower Show.
Pope's Gardens
1146 Old White Horse Pike
Waterford, NJ 08089
856–767–3343
http://www.popesgardens.com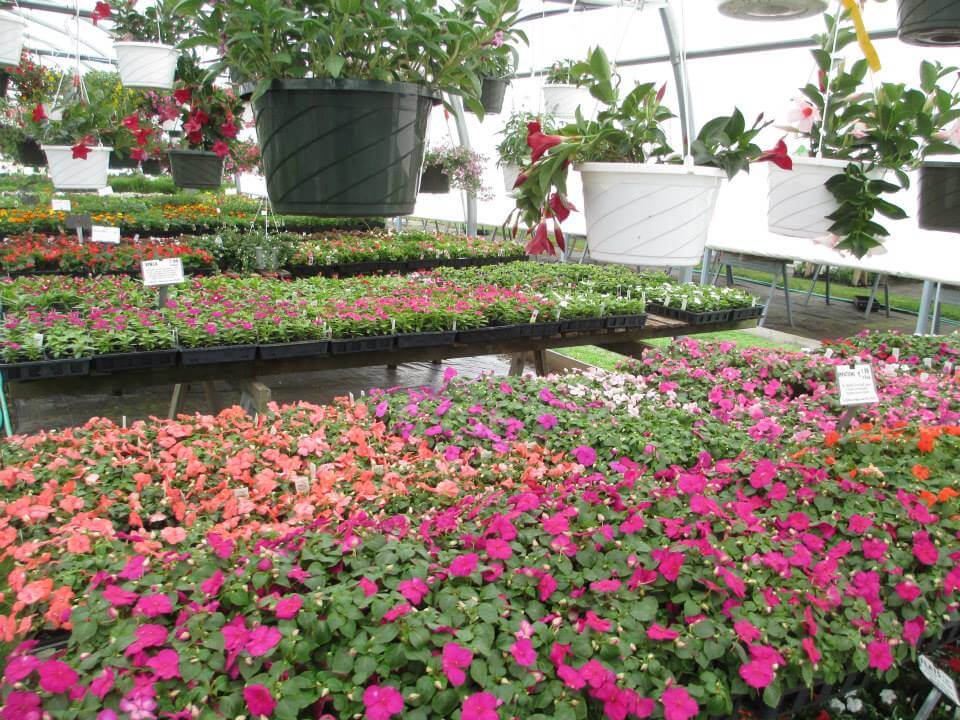 800 varieties of perennials are grown on Pope's Gardens 10-acre South Jersey property. They also sell herb plants, annual and perennial vines, vegetable plants, and hanging baskets. Home horticulturalists can find any gardening product here, from mulches to soils to fertilizers to statuary.
Special Services: Throughout the year, Pope's Gardens offers a number of classes sure to interest home gardeners, including Spring Blooming Perennials, Container Herb Garden, and a "how to" class demonstrating How to Attract Hummingbirds or Butterflies to Your Garden.
That Little Bit Extra: For the youngsters, there are a number of unusual farm animals on display, including alpacas, emus, Scottish Highland cows, sheep, pheasants, turkeys, hedgehogs, rabbits, and many more.
Cape May County
Church's Garden Center and Farms
522 Seashore Road
Cape May, NJ 08204
609–884–3927
http://www.churchsbeachgrass.com/

Since 1962, Church's has been a family-owned business, and now the third-generation proudly serves the community as the most complete garden center in Cape May County.
Special Services: Church's is a recognized expert grower of Cape American Beachgrass, with over 50 years of experience. Their product helps to protect shoreline lives and property from incoming waves and storms.
That Little Bit Extra: Unlike most garden centers or nurseries, Church's can ship their beachgrass with their own fleet of delivery trucks, not only just in-state, but anywhere from Maine to North Carolina or along the Great Lakes.
The Garden Greenhouse and Nursery
1919 North Route 9
Clermont, NJ 08210
609–624–1350
http://www.gardengreenhouse.net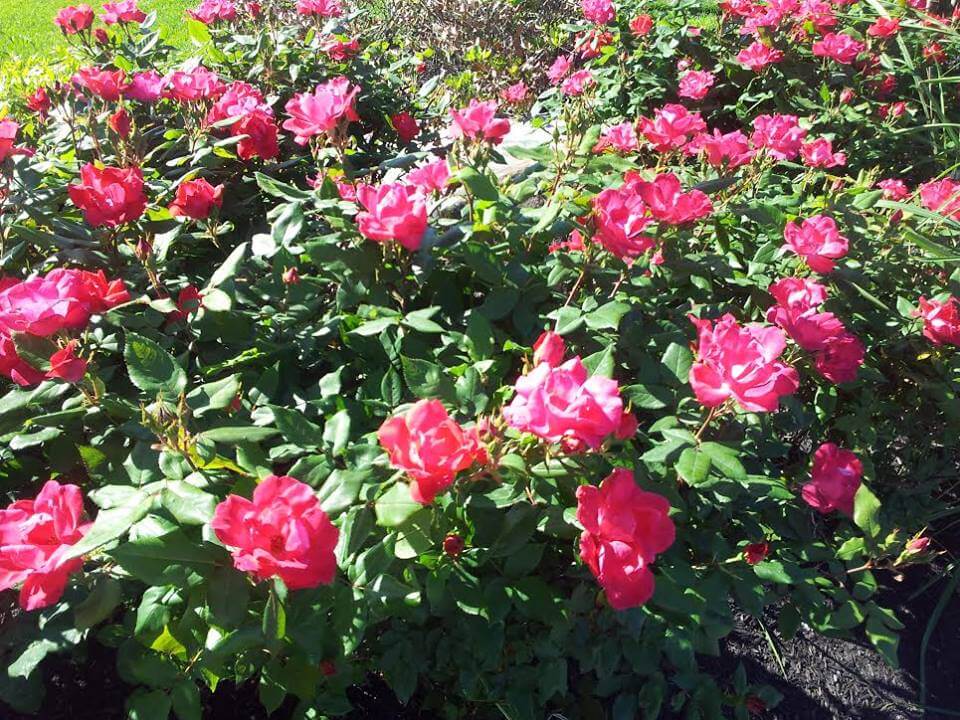 For more than 50 years and three generations, the Catanoso family has served South Jersey, offering an on-site florist as well as complete landscaping services. In addition to a complete line of annuals, perennials, and shrubs, the Garden Greenhouse also carries terra-cotta pottery and both supplies and plants for ponds and fountains.
Special Services: The Garden Greenhouse is adjacent to and part of Woodland Village, a unique shopping experience that brings together a number of artisan shops offering handcrafted jellies, cheeses, crafts, and toys.
That Little Bit Extra: Throughout the year, the Garden Greenhouse hosts a number of events to bring together the horticultural community, such as Easter egg hunts, chili cook-offs, and pictures with Santa during Christmas in July.
Essex County
Fairfield Garden Center
445 Route 46 West
Fairfield, NJ 07004
973–227–4449
http://www.fairfieldgardencenter.com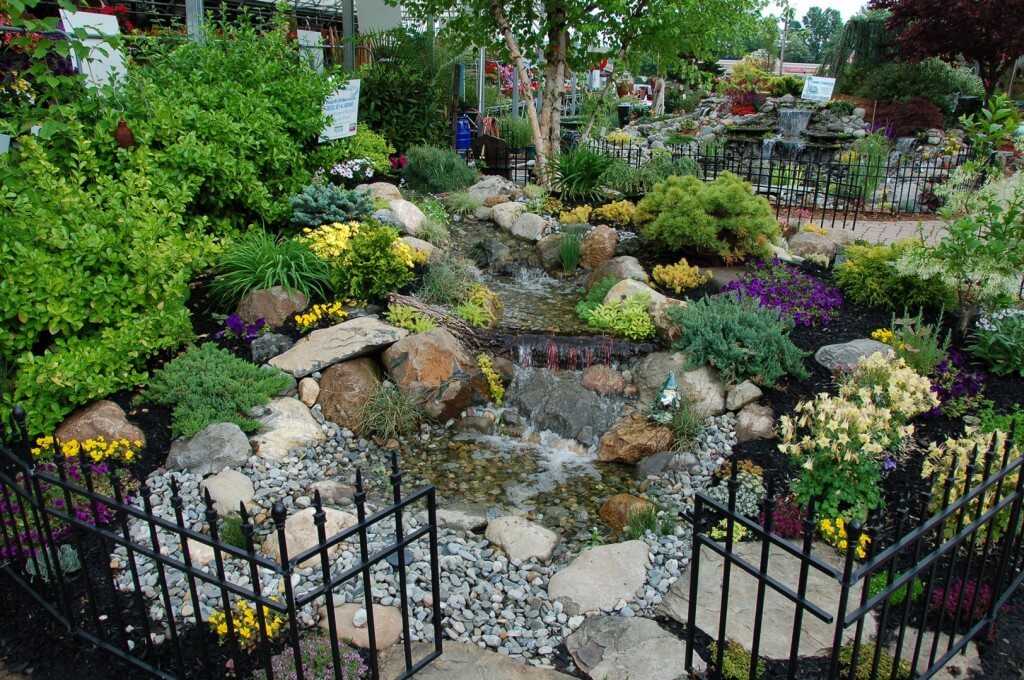 Sitting on 5 acres of retail space, Fairfield Garden Center offers everything from fertilizer to mulch to hanging plants to hydroponics. They're one of the largest garden centers in the Garden State and they have one of the best selections of water gardening equipment and supplies on the East Coast.
Special Services: Because they specialize in water gardens, the Fairfield Garden center is a great place for a curious consumer to browse and learn from the experts. They even offer an instructional DVD.
That Little Bit Extra: Numerous times throughout the year, Fairfield Garden Center offers its customers an opportunity to sign up for educational seminars hosted by recognized water gardening experts.
Orange Gardens
360 Alden Street
Orange, NJ 07050
973–672-2212
http://www.orangegardennj.com/home

Orange Gardens advertises itself as your "one-stop" garden center. They carry a vast selection of vegetable plants, hanging baskets, perennials, and annuals. Their nursery also carries many different varieties and cultivars of trees and shrubs.
Special Services: Orange Gardens will plant any purchases into its appropriate pot for no additional charge, whether that pot was purchased from the garden center or whether you brought it in.
That Little Bit Extra: Orange Gardens specializes in carrying the most highly-rated products for the home organic gardener, including fertilizers, insecticides, and pest control products.
Gloucester County
Bloomers Home and Garden Center
344 Hurffville-Crosskeys Rd (County Rd 654) at Fish Pond Road
Washington Twp., NJ 08080
856–589–0200
http://www.bloomers.com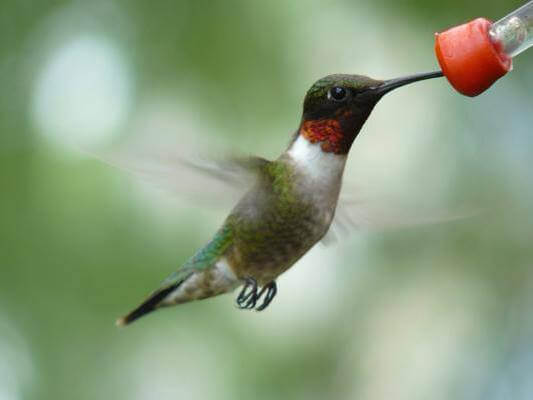 The owner is a Certified Landscaping Professional, and the garden center has long belonged to the New Jersey Nursery and Landscape Association, the American Association of Nurserymen, Master Nursery Garden Centers, and the New Jersey Farm Bureau. They have a great selection – 32,000 square feet in the Nursery Center and a 5,300 square foot temperature-controlled greenhouse.
Special Services: When it comes to the equipment you need to maintain your lawn and garden, Bloomers goes one step further than most other garden centers – they have equipment for sale or for rent, including killers, power seeders, aerators, thatchers, and lawn vacuums.
That Little Bit Extra: Bloomers understands how the presence of wild birds in your outdoor living area can add something magical, so they carry a full line of birdbaths, feeders, nesting boxes, and they also teach seminars on backyard bird feeding.
Creamy Acres Farm
448 Lincoln Mill Road
Mullica Hill, NJ 08062
856-223-1669
http://www.creamyacres.com/index.html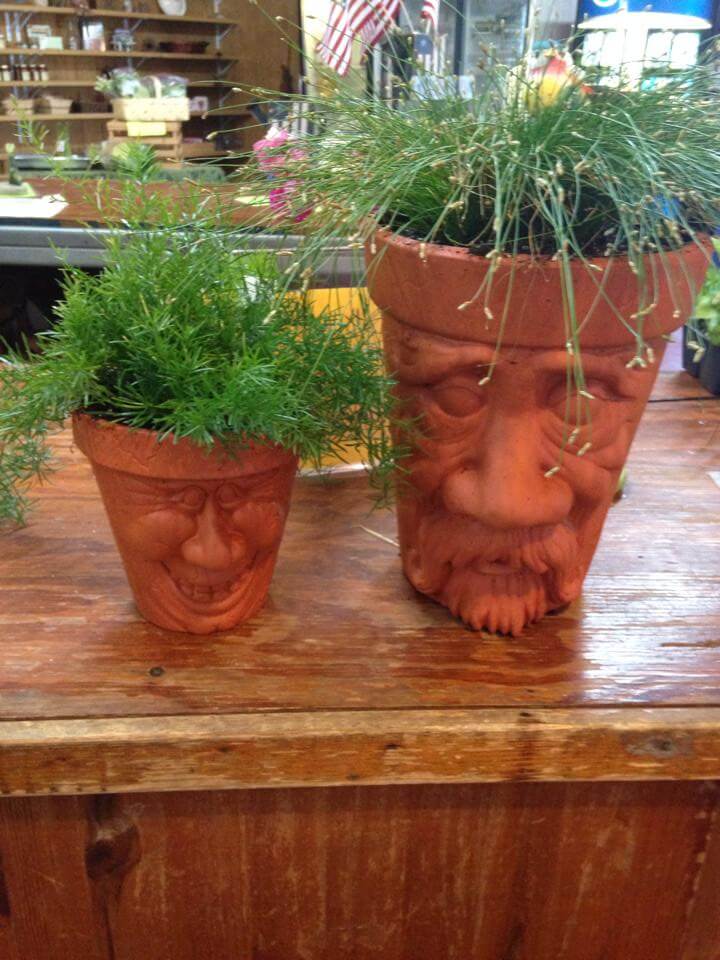 Stroll through the garden center of Creamy Acres Farm to relax your mind, body, and soul. They have a massive variety of perennials, vegetable plants, herbs, and bedding plants all enclosed within the greenhouse.
Special Services: For an old-fashioned good time, bring the kids with you and let them play with the barnyard babies – chicks, calves, goats, bunnies, and other animals.
That Little Bit Extra: During the month of October, make sure to stop by for a "Night of Terror", when the farm is transformed, offering a number of scary attractions sure to get your heart racing!
Triple Oaks Nursery and Herb Garden
2359 Delsea Drive
Franklinville, NJ 08322
856–694–4272
http://www.tripleoaks.com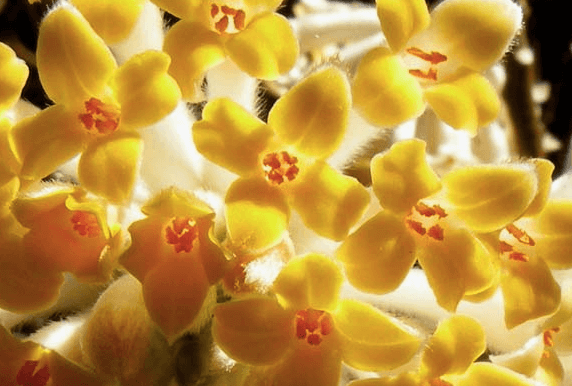 In 1977, two teachers started small, trying to make a business out of their hobby by selling flowers, natural goods, and herbs from a small bicycle shed. Today, Triple Oaks has its own greenhouses, growing facilities and display gardens with a dazzling selection for retail customers. They also offer total landscaping services, including consultations, plantings, turf installation, and any other outdoor project.
Special services: One of the specialties of the company is helping customers plan, plant, and cultivate their own herb gardens for aesthetics, health, and culinary purposes.
That Little Bit Extra: The owners of Triple Oaks are both available for speaking engagements, covering such topics as Natural Gardening, Herbs in the Medieval Monastery, Starting a Kitchen Garden, and lectures on how to grow specific types of plants in the Delaware Valley.
Hunterdon County
Rutgers Landscape and Nursery
1051 US Highway 202
Ringoes, NJ 08551
800-422–6008
http://www.rutgersln.com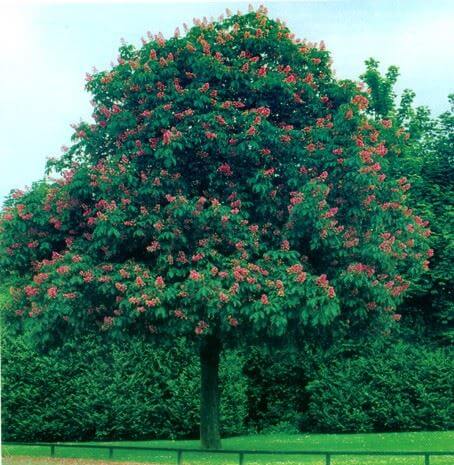 The Rutgers Nursery has been in operation since 1986, but in 2013 they expanded with the purchase of a 62-acre farm, with the aim of further diversify their offerings. They specialize in trees and plants that are rare in a retail setting.
Special Services: If you feel that you need a little one-on-one help with your garden, you can hire a Garden Coach from Rutgers. The Coach can help you with such things as plant identification, proper plant selection, bed preparation, and plant placement. The Coach meets with you on-site to help determine the potential of your garden.
That Little Bit Extra: The Rutgers Nursery serves as an ideal "destination nursery", and guided tours are available, complete with a complimentary breakfast.
Mercer County
Kale's Nursery and Landscape Service
133 Carter Rd.
Princeton, NJ 08540
609–921–9248
Website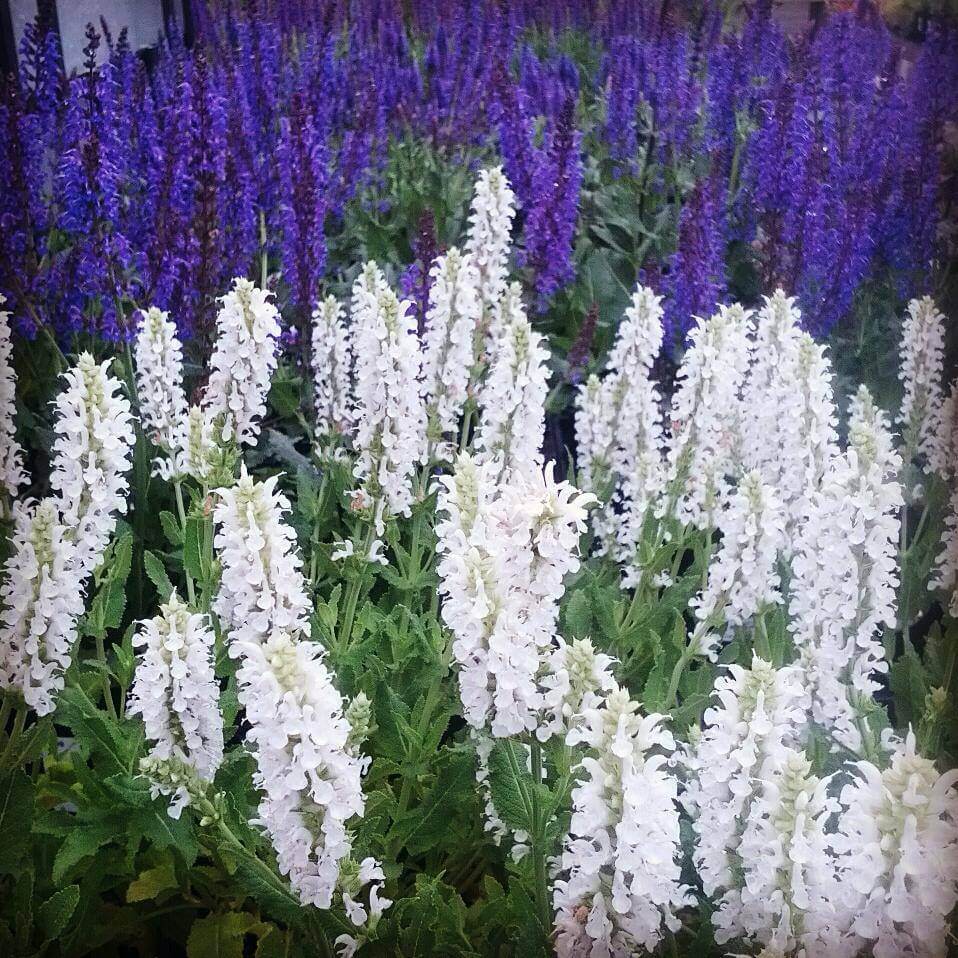 In the book, The Adventurous Gardener: Where to Buy the Best Plants in New York and New Jersey, award-winning author Ruah Donnelly called Kale's Nursery and Landscape Service "One of the Best Nursery and Landscaping Operations in the Region."
Special Services: The company specializes in the installation of large trees, and they have on-site a dazzling variety of tree species and cultivars.
That Little Bit Extra: The employees of the company are extremely knowledgeable about all things horticultural, and most have earned degrees or certificates, including the owner (BS plant science), both landscape architects (BS landscape architecture), the nursery yard manager (BS plant science), the horticulturalist (BS ornamental horticulture and environmental planning), and the garden center manager (BS ornamental horticulture).
Stony Brook Gardens
Route 31 and Yard Road
Pennington, NJ 08534
609–737–7644
http://www.stonybrookgardens.com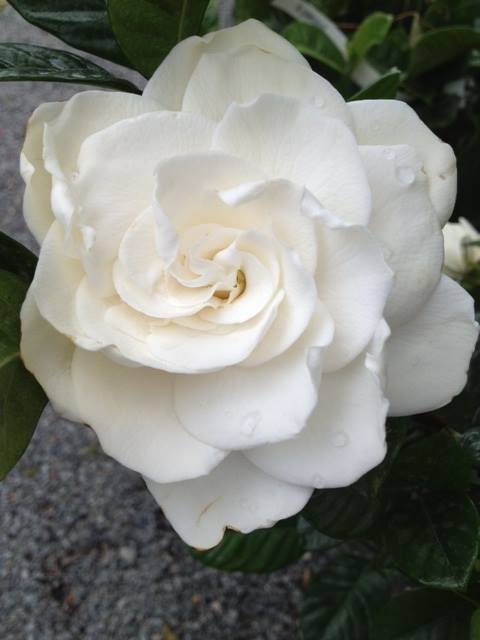 The site of Stony Brook Gardens was originally a dairy barn built around the dawn of the 20th century, and the building had stood empty for nearly 30 years before it was purchased by the current owners. After two years of renovation, the barn was restored very close to its original appearance. Stony Brook Gardens was awarded the first-ever "Historic Preservation Award" given to a commercial establishment in Hopewell Township.
Special Services: In addition to traditional landscaping services, Stony Brook Gardens also can design, build, and install poolscapes, water gardens, pergolas, trellises, and custom fences.
That Little Bit Extra: Stony Brook Gardens has an active Facebook page where customers can look at recent projects and communicate directly with the owners of the company.
Monmouth County
Barlow's Flower Farm
1014 Sea Girt Avenue
Sea Girt, NJ 08750
732–449–9189
http://www.barlowflowerfarm.com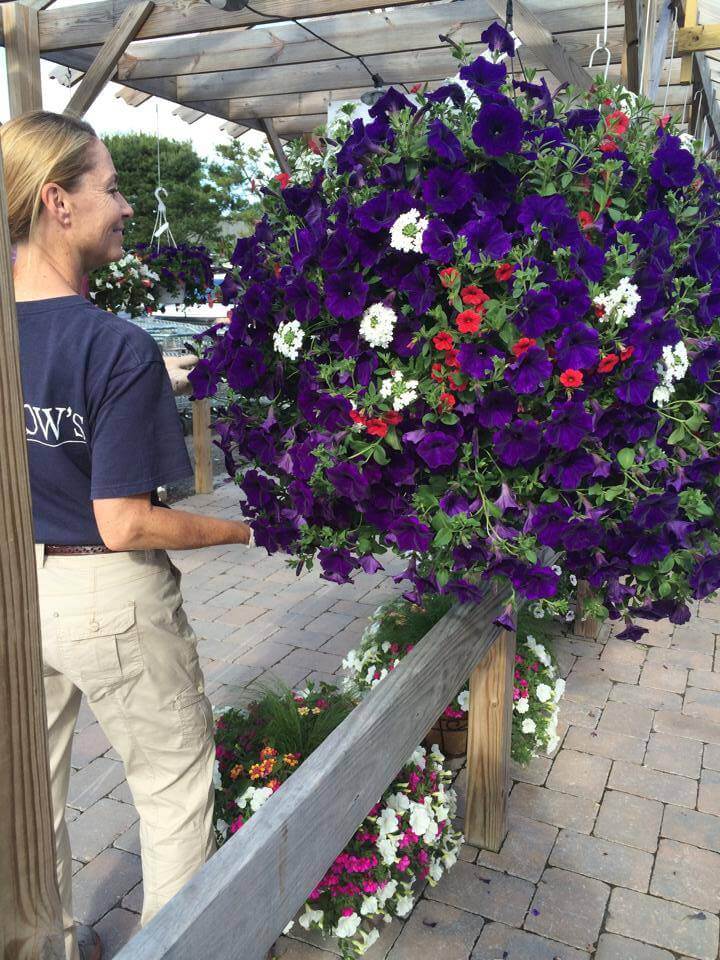 At the historical site of a home horticultural business that was originally built in 1807, Barlow's Flower Farm has expanded with a 10,000 square-foot European glass greenhouse, 28 growing greenhouses, and a one and a half acre outdoor growing area. They're one of New Jersey's largest retail growers, and they are produce nearly 3/4 of the plants and flowers that they sell and use during the year.
Special Services: In addition to landscaping, Barlow's is expert in "interiorscaping", a horticultural discipline that stresses the right interior number, type, and placement of plants for maximum aesthetic appeal.
That Little Bit Extra: At several times during the year, Barlow's Flower Farm offers a number of free classes designed to increase the skill level of the home horticulturalists. Recent offerings this spring were Caring for Citrus Trees, Cold Crop Vegetable Gardening, and Starting Plants from Seed Indoors.
Molzon Landscape Nursery
140 Middletown – Lincroft Rd.
Lincroft, NJ 07738
732–741–9098
http://www.molzons.com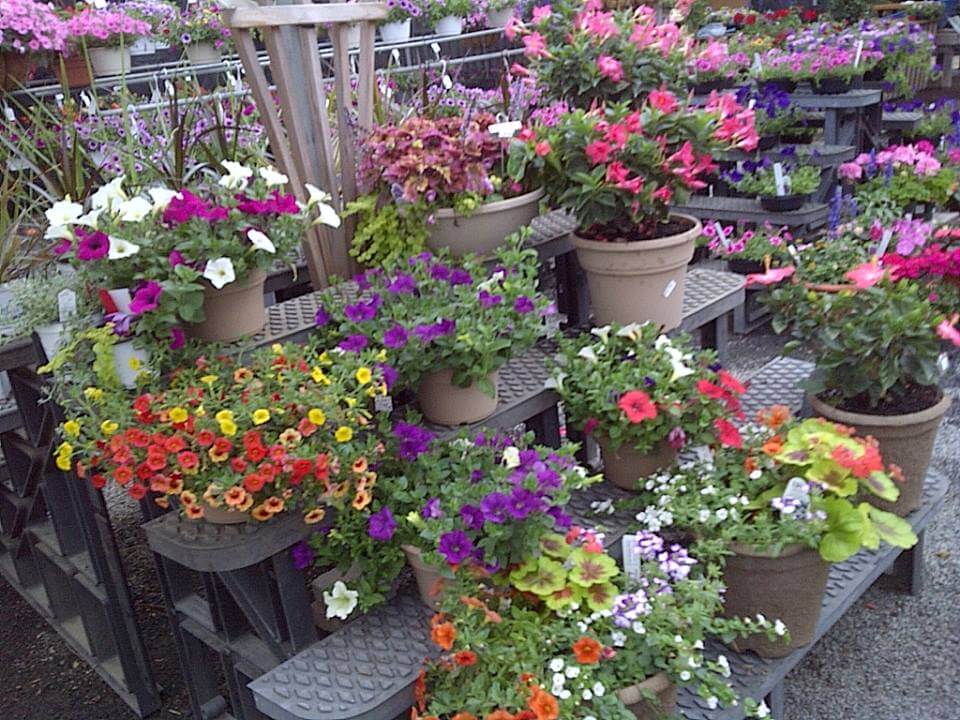 The company was started in 1982 as a landscape design operation by Gerald Molzon, after he had graduated from Delaware Valley College with a degree in Ornamental Horticulture. Since that time, it has grown from a small operation to a complete retail garden center and landscape design build company.
Special Services: In addition to being a full-service garden center, the professionals at Molzon landscape nursery are experts in both landscaping and hardscaping, and can take any project, such as walkways, patios, stone walls, or privacy barriers from conception to completion.
That Little Bit Extra: Using their relationship with a respected local grower, Molzon's is making fresh, locally-grown organic produce available to its customers from June through November.
Morris County
The Farm at Green Village
403 Green Village Road
Green Village, NJ 07935
973–377–8703
http://thefarmatgreenvillage.com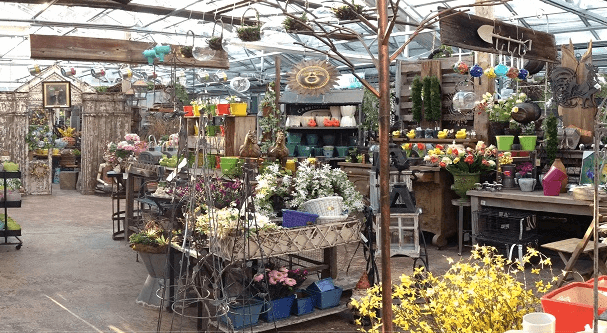 Outside, their property has 30 acres of annuals, perennials, shrubs and trees, and inside, they have a 30,000 square-foot greenhouse jam-packed with thousands of house plants and everything you need to care for them. Simply put, the Farm at Green Village is your one-stop destination for all of your gardening and outdoor living needs.
Special Services: Several times during the year, the Farm at Green Village will host events or seminars related to caring for your home garden or lawn, where the public is encouraged to interact and learn from recognized celebrity experts in the field.
That Little Bit Extra: One of the most endearing things about the Farm at Green Village is their menagerie, featuring sheep, donkeys, ducks, swans, koi, and even a peacock!
Rockaway Garden Center
296 Route 46 East
Rockaway, NJ 07866
973–625–8658
http://www.rockawaygardenctr.com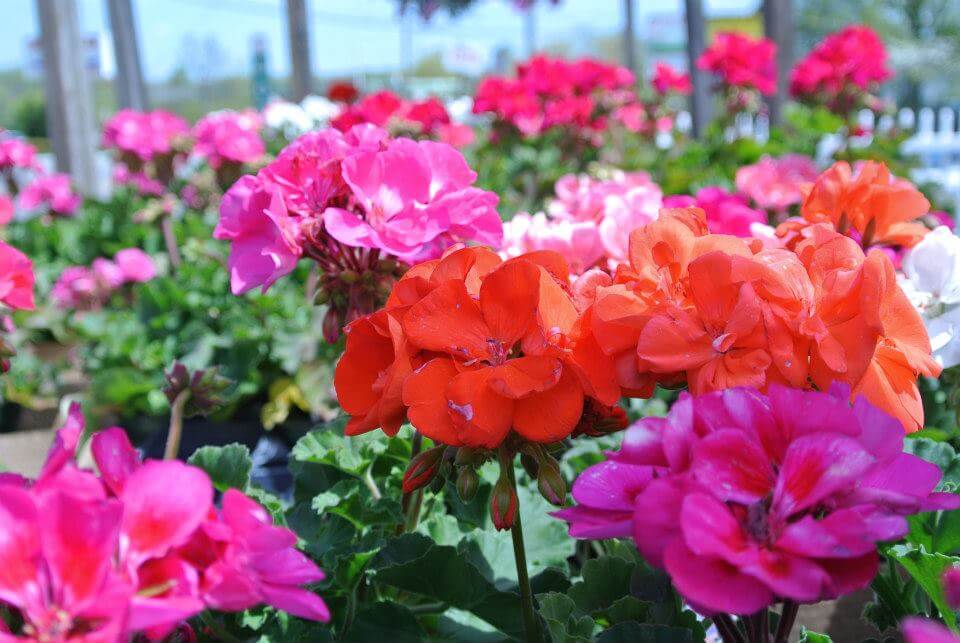 Since 1982, Rockaway Garden Center has been a "Jersey-grown" supplier of annuals, perennials, and shrubs, meaning virtually all of their plants are grown in-state. This means that these plants are adapted to the local environment and will have a long productive lifecycle.
Special Services: Rockaway Garden Center has the stated aim to make gardening fun, instead of a chore. With their knowledge and experience, they can help eliminate the stress felt by beginning home gardeners. Bring pictures for an on-site cult consultation or arrange for planting of trees and shrubs.
That Little Bit Extra: If you have any sort of gardening-related question, such as planting advice, or a request for information about a specific plant, then e-mail the company directly and receive an expert answer within 24 hours.
Ocean County
Reynolds Garden Center
201 East Bay Avenue
Manahawkin, NJ 08050
609–597–6099
http://www.reynoldsgardenshop.com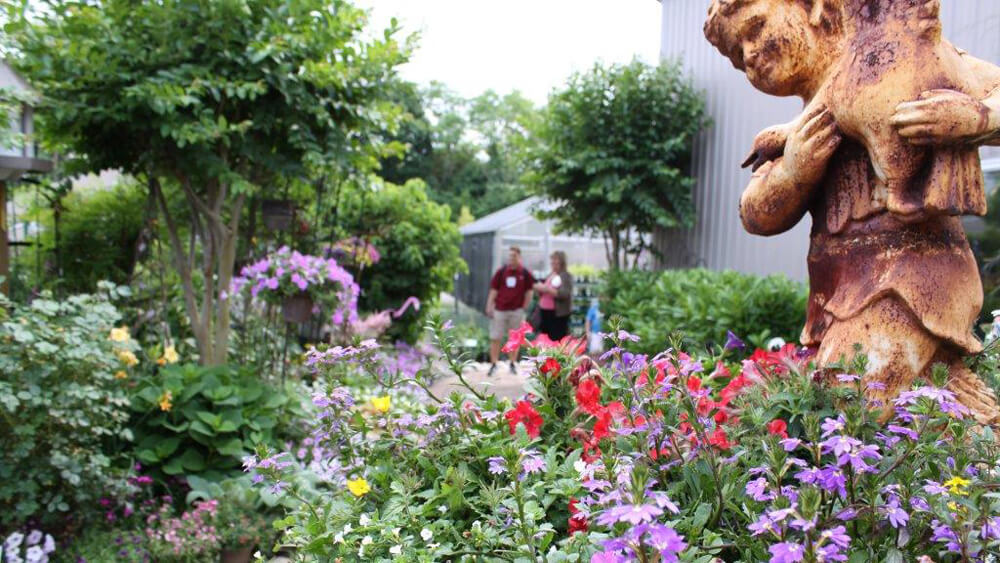 Reynolds Garden Center a complete nursery, with everything a home horticulturalists need to create the perfect outdoor living space. Their nursery abounds with annuals, perennials, herbs, vegetables, tropical, lines, trees, and shrubs. They have soil, mulch, and fertilizers, as well as all outdoor decorative items.
Special Services: For over 30 years, Reynolds has been considered the premium landscaping design operation on Long Beach Island. Unlike many landscaping companies, they also have the expertise to tackle projects that include lighting, electricity, woodworking, and masonry,
That Little Bit Extra: Spreading the culture of home gardening, Reynolds will invite recognized celebrity experts to participate in events at the garden center.
Passaic County
Glenwild Garden Center and Nursery
104 Glenwild Ave.
Bloomingdale, NJ 07403
973-838-0174
http://glenwildgardens.com/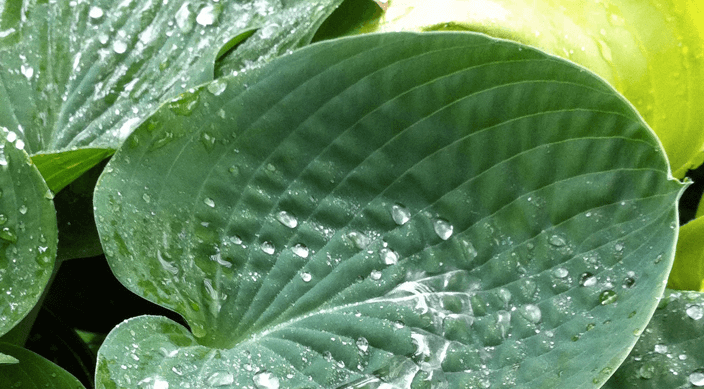 The Glenwild Garden Center and Nursery has been a family-owned and operated business since 1928, and in addition to the usual garden center offerings—shrubs, trees, annuals, and perennials—they also provide extras that you don't normally find—firewood, propane tanks, and local farm products, such as fresh eggs and honey. Starting every November, Glenwild is where you can buy a freshly-cut Christmas tree.
Special Services: GGCN provides all landscaping services—design, plantings, patios, walkways, walls (both stone and retaining), mulching, pruning and plant maintenance. Their designer is a third-generation member, and is certified in landscape architecture.
That Little Bit Extra: Spreading the gospel of home horticulture is the mission of Glenwild Garden Center and Nursery, and so, they offer and eclectic class schedule to broaden the knowledge base of attendees. Typical classes taught in 2014 include: Making Teas and Medicines with Herbs, Beekeeping, Butterfly Gardening, Mushroom Picking, and their most popular class, Fairy Gardening.
Somerset County
Ambleside Gardens and Nursery
834 Route 206
Hillsborough, NJ
908-359-8388
http://www.amblesidegardens.com/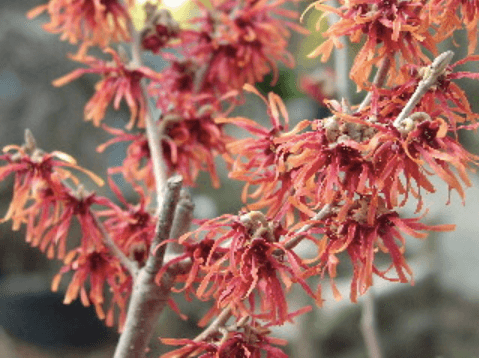 Visitors from all over the tri-state area have visited Ambleside Gardens and Nursery since 1966, which bills itself as "New Jersey's Most Unusual Garden Center." If you are looking for unique arboreal offerings, this is the place for you—over 100 varieties of Japanese maple are kept in stock.
Special Services: By appointment, do-it-yourselfers can consult in-house with Ambleside's certified nursery and landscape professionals.
That Little Bit Extra: Ambleside participates in the New Jersey Flower Show, and their display gardens have won the Governor's Trophy for Best in Show five times!
Bardy Farms
149 Washington Valley Road
Warren, NJ 07059
732–356–4244
http://bardyfarms.com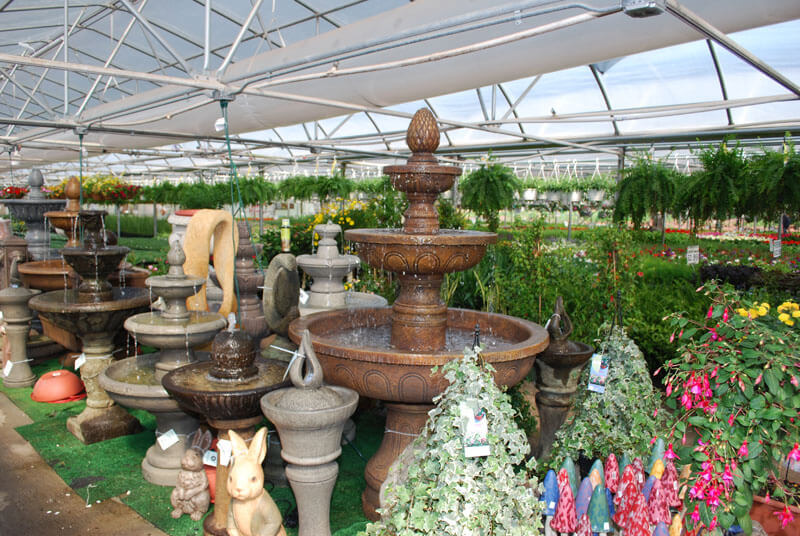 Bardy Farms is a family-owned establishment that has been a New Jersey fixture since 1904 started by a Russian immigrant. The garden center concentrates on organic supplies, including soils, fertilizers, insect repellent and controls, and fungicides.
Special Services: The farm is recognized for produce and offerings that are certified "Jersey-grown" and they offer a substantial selection of fresh, organically grown produce.
That Little Bit Extra: During the fall harvest, the farm produces hay bales, cornstalks, Indian corn, pumpkins, and fresh apple cider.
Sussex County
Gardens of the World
58 Whitehall Rd.
Andover, NJ 07821
973-786–8023
http://www.gardensoftheworld.com/
Additional locations: Mine Hill and Towaco, Morris County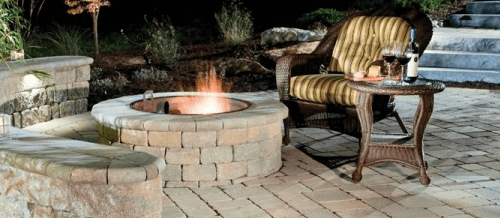 Since 1965, Gardens of the World has offered a complete selection of products and plants on a commendable scale – over 12 total acres of plant materials imported from the most reputable growers across the country, and over 22,000 total square feet of showroom space. You will find it all here – plants, mulches, fertilizers, tools, outdoor furniture, statuary, pergolas, and fire pits.
Special services: "You Point We Plant" is an optional service where GOTW employees will deliver and install any plants purchased at one of their garden centers.
That Little Bit Extra: Gardens of the World is a sponsor of and participant in several local home shows, including the Springfest Garden Show, held in Augusta, at the Sussex County Fairgrounds, and the Patio, Flower, and Home Remodeling Show, typically held at the National Guard Armory in Morristown.
Ideal Farm and Garden
222 Route 15
Lafayette, NJ 07848
973–579–3893
http://www.idealfarmandgarden.net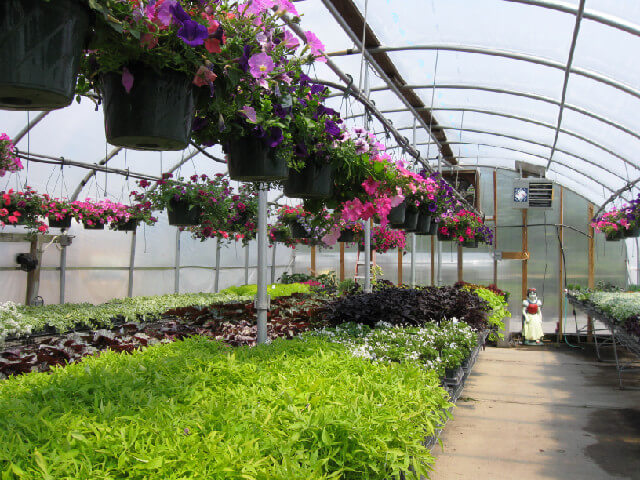 The family that owns Ideal Farm and Garden has its farming roots in Sussex County stretching back to 1910. Today's location was part of the original dairy farm. They offer bedding plants, roses, perennials, and hanging baskets, along with a variety of locally made products.
Special Services: The Ideal Farm and Garden offers Amish-made storage shed in a variety of sizes, styles, and colors.
That Little Bit Extra: No one can stop by the Farm without visiting their bakery, which carries fresh-baked Apple Cider Donuts covered in cinnamon sugar. They also make by hand over 20 varieties of pies and a number of breads and muffins.
Kuperus Farmside Gardens
19 Loomis Avenue
Sussex, NJ 07461
973–875–3160
http://www.farmsidegardens.com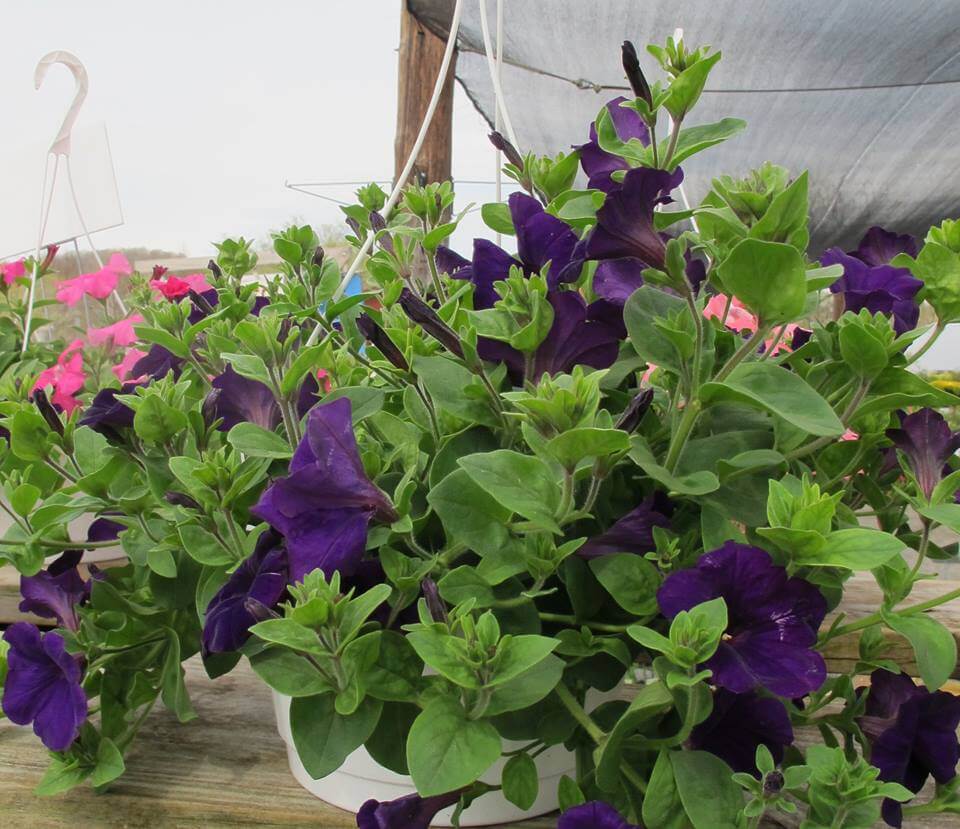 For more than 60 years, starting in the Netherlands and now, generations later, in the United States, The Kuperus family has been involved in farming and horticulture. The 10-acre family farm has an extensive array of hundreds of varieties of perennials, annuals, herbs, trees, and shrubs.
Special Services: On their website, the Kuperus Farm provides a downloadable Tree and Shrub Guide and a
Perennial Guide that can help home gardeners decide which plants is best for their situation.
That Little Bit Extra: Kuperus Farmside Gardens' lead floral designer has a degree in floriculture and over 19 years of experience, and can create arrangements for any occasion or taste.
Union County Hall's Garden Center and Florist
700 Springfield Ave.
Berkeley Heights, NJ 07922
908-665-0331
http://hallsgarden.com

For over 30 years, Hall's Garden Center and Florist has been providing superior service as a garden center, a landscape designer, and a full-service florist. Home horticulturists can find annuals, perennials, trees, shrubbery, and a full-compliment of vegetables and herbs.
Special Services: When it is time to create your ideal outdoor spaces, Hall's can help—whether it is simple advice, a personal consultation, detailed landscaping design, or delivery and installation.
That Little Bit Extra: Hall's embraces the Information Age, by producing a regular blog that offers advice and tips for the home gardening enthusiast. Even better, you can download their smart phone app to earn rewards, keep abreast of featured plants and events, and ask for gardening advice directly from the staff. The app also has a "Plant Guide" of over 1000 plants, with pictures, descriptions, and tips on care and cultivation.
Parker Gardens
1325 Terrill Road
Scotch Plains, NJ 07076
908–322–5552
http://www.parkergardens.com/#!products/c1ql8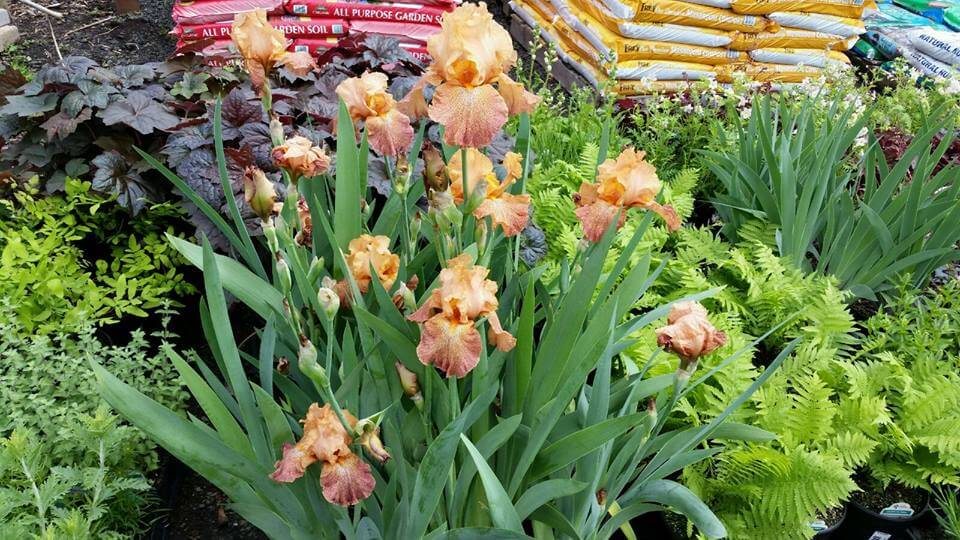 Founded in the years following World War II, Parker Gardens is an industry leader and has been an icon for more than 65 years. From the nurseries, Parker Gardens provides vegetables, annuals, perennials, house plants, trees and shrubs, as well as all the fertilizers, nutrients, and pesticides that could ever be necessary.
Special Services: So you can accurately judge what your correct starting point is when beginning a home garden, bring in a sample of your soil, and Parker Gardens will perform a free soil analysis.
That Little Bit Extra: Parker Gardens has long been known as a place for innovation, and it is this sort of forward-thinking that has won the company so many awards, including two Awards for Excellence from the White House, one presented by First Lady Hillary Clinton and one presented by First Lady Barbara Bush.
Related Articles