If you meet with us, you will choose us. Essex Home Improvements is simply the best choice for replacement windows, vinyl siding, roofing, and all your contracting needs in New Jersey. We guarantee the best quality workmanship, best quality materials, and best prices.
Family owned, you only deal with our family, no salesmen. No "if you buy tonight" gimmick pricing and no two hour long presentations. We value your time as much as our own.
[Request a Free Quote from Essex Home Improvements]
Don't begin your project without meeting with us. Do your homework, get multiple quotes, then see us.  And don't just take our word for it. Check our reviews and testimonials from our prior clients.
Choose us and you won't be disappointed. You deserve the best; don't settle for less.
Replacement Windows
Most other window replacement companies sell a specific brand of windows exclusively. They spend hours trying to convince you why their window is better than their competitors'. As Essex Home Improvements, our allegiance is to you, our customer. We carry a wide array of replacement windows, including vinyl replacement windows and wood replacement windows, and strive to match the right window to your needs, not ours. After surveying your particular needs and budget, we suggest the window that best matches your situation. Picking the right window for your project is only part of the equation. The most important part is the installation. This is where Essex Home Improvements rises far above our competition. Your windows are installed by my nephew Mark and his team of factory trained EPA certified installers. Mark, second in chain of command at Essex Home Improvements, has a personal vested interest in your job being done right, with meticulous attention to every detail. We guarantee your 100% satisfaction.
Vinyl Siding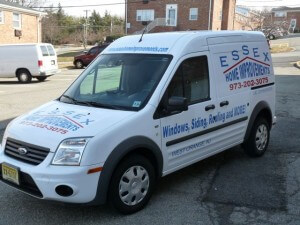 It has never been easier or more affordable to make your home look fantastic. Today's vinyl siding represents a great value and comes in a wide range of colors, styles, and finishes sure to satisfy the most discriminating homeowner.  We're proud to represent Certainteed, Mastic, and Heartland, Alcoa, Alside, and Associated Materials, Inc. vinyl siding products. As with all our services, we'll send an expert to your home to survey your needs and budget and suggest the vinyl siding that best suits your needs. Next, the siding is installed by factory trained certified installers. We back all our vinyl siding installation and all our services with a 100% satisfaction guarantee.
Roofing
Essex Home Improvements is an Owens Corning Preferred Contractor. We use both Owens Corning and GAF roofing shingles. Both shingles, especially the 50 year architectural shingles, offer great product and great value.
However, a shingle does not make a roof. Only quality workmanship and attention to detail during installation can ensure a sound, water-tight roof and protection from the elements. At Essex Home Improvements, we guarantee every aspect of your roof installation will be performed to the manufacturers' specifications or better. We always use ice and water shields. We always install new step flashing. We always install new pipe collars on all vent pipes. We always fabricate and install new chimney counter-flashings, no roof cement or caulk sealants.
We offer a 10 year labor warranty, and if you have a problem we respond within 24 hours. Every one of our customers has my personal cell phone number. No office to call. My roofing crew is the best. And when we're done, your property will be spotless. Every roof is inspected by me or my nephew Mark before final payment–not from the ground, we go up on the roof. Do not put your roof or your home in the hands of some fly-by-night outfit or a salesman that does not or can not go up on your roof to assess and inspect it. You deserve the very best, and with Essex Home Improvements, you get the very best.
Service Magic Customers
We'd like to welcome customers who found us via Service Magic!
Home Improvement Contractor in NJ
We offer a 100% satisfaction guarantee on all our work, including kitchens, bathrooms, painting, basements, and more.